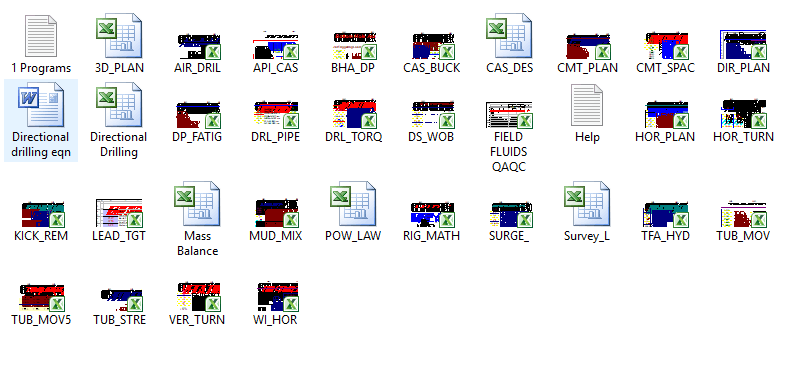 Drilling Design Spreadsheets
4 June 2019
Drilling Design Spreadsheets
Content:
AIR_DRIL Annular pressures at depth with air/mud ratios and mud circulation rates.
API_CAS Casing design in the "API" manner with dogleg and salt loads.
BHA_DP BHA design: jar triggering load, mechanical properties, tapered BHA, wall forces, torsional damping, spinning torque, torsional buckling, rotational drag buckling, critical buckling loads, weight on bit in inclined holes, critical rotary speeds, fatigue of drill pipe.
CAS_BUCK Stability (buckling and wellhead loads) of casing after cementing.
CMT_PLAN Primary and squeeze planning with hole enlargements.
CMT_SPAC Pumping rates for cement spacers to prevent settling.
DIR_PLAN Plans "S", slant, and double build type of holes. Transposes TVD to MD and MD to TVD, Dogleg severity.
DP_FATIG Maximum allowable dogleg severity of holes for drill pipe fatigue.
DRL_PIPE Selects drill pipe for tension, collapse, torsion, bending of body and joint. Combinations and tapered strings.
DRL_TORQ Allowable torque based on tooljoint and body strengths.
DS_WOB Drill string as weight on bit.
HOR_PLAN Plans horizontal holes with a tangent section.
HOR_TURN Plans horizontal turns in horizontal holes.
KICK_REM Kick removal: surface pressures, kick volumes, mud weight, pumping volumes, mud pit gains, shoe pressures, driller's method.
LEAD_TAR Computes coordinates and azimuths along lead arc for directional holes.
MUD_MIX New mud mixing, optimal solids, mud consumption, additions, barite, water, bentonite, oil, etc.
POW_LAW Pressure losses, AV, Regimes, n, k, with the iterative power law model.
RIG_MATH Fits equations to data with least squares. Confidence lines.
SURGE Surge and swab while running and pulling pipe.
SURVEY_l Directional survey computations, circular interpolation between survey stations, 3d distance between holes, tie point.
TFA_HYD Optimal rig hydraulics with motors, PDC, MWD, and Jets.
TUB_MOV Tubing design: movement and stress for one weight and grade.
TUB_MOV5 Tubing desing: movement and stress for five weights or grades.
TUB_STRE Strengths of API pipe: tensile, collapse under load, burst, body, and APIjoints in bending.
VER_TURN Plans new track after two vertical turns in horizontal holes.
CAS_DES Design the casing by graphical solution, it including pressure test and biaxial checks.