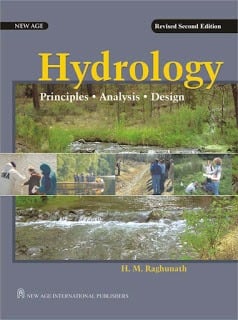 Hydrology Principles, Analysis, and Design Second Edition
10 July 2018
Hydrology Principles, Analysis, and Design Second Edition
Hydrology is a long continuing hydroscience and much work done in this field in the past,
particularly in India, was of empirical nature related to development of empirical formulae,
tables and curves for yield and flood of river basins applicable to the particular region in which
they were evolved by investigators like Binnie, Barlow, Beale and Whiting, Strange, Ryves,
Dicken, Inglis, Lacey, Kanwar Sain and Karpov, etc.
In this book, there is a departure from empiricism and the emphasis is on the collection
of data and analysis of the hydrological factors involved and promote hydrological design on
sound principles and understanding of the science, for conservation and utilisation of water
resources. Hydrological designs may be made by deterministic, probabilistic and stochastic approaches
but what is more important is a 'matured judgement' to understand and avoid what is
termed as 'unusual meteorological combination'.
Hydrology is a branch of Earth Science. The importance of hydrology in the assessment,
development, utilisation and management of the water resources, of any region is being increasingly
realised at all levels. It was in view of this that the United Nations proclaimed the
period of 1965-1974 as the International Hydrological Decade during which, intensive efforts
in hydrologic education research, development of analytical techniques and collection of hydrological
information on a global basis, were promoted in Universities, Research Institutions,
and Government Organisations.
[su_button url="https://drive.google.com/open?id=1WTGyQfkVTndf2VZm14WP-VQRh5-TtFTA" size="5″ center="yes"]Download Link[/su_button]