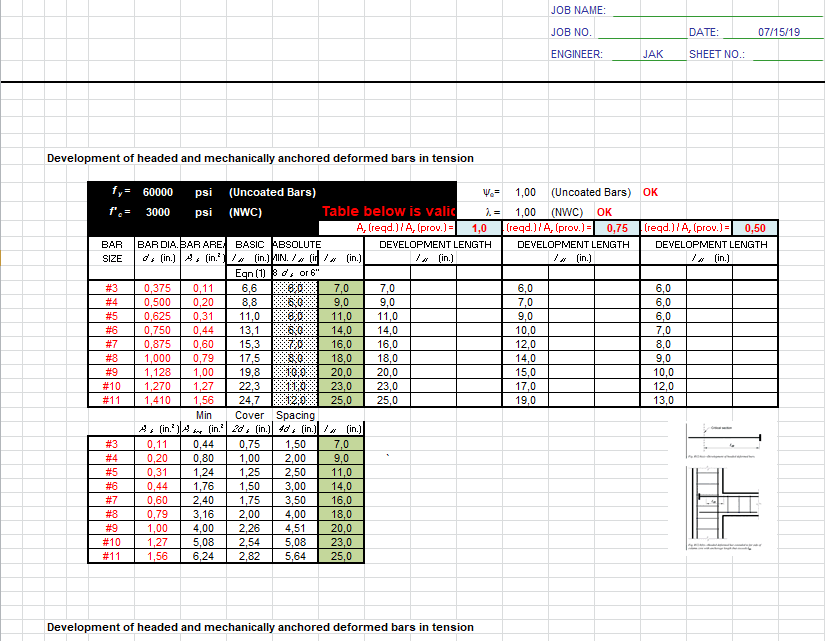 Standard hook bars in tension for ACI 318-08 Spreadsheet
15 July 2019
Standard hook bars in tension for ACI 318-08 Spreadsheet
ACI 318-08, Chapter 12 is the basis for this table.
The development lengths for standard hook bars in tension for ACI 318-08 is given in Article 12.5
Standard hooks (with 90-deg or 180-deg bend) are defined in Art. 7.1 of the ACI Code.
A modification factor of 0.7 is applied to the basic development length in the above table.  Therefore, the side cover (normal to the plane
of hook) for bars #11 and smaller shall be greater than or equal to 2.5″.  For 90-deg hook, cover on bar extension shall not be less than 2″.
No stirrups or ties are assumed to occur within the development length, l dh .
Standard hooks shall not be considered to be effective in developing bars in compression.
The development length of deformed bars in compression for ACI 318-08 is given by Article 12.2.3
The development length of deformed bars in compression has been calculated assuming that no spiral or ties enclose rebar to be developed.
Calculation Reference
ACI 318-08