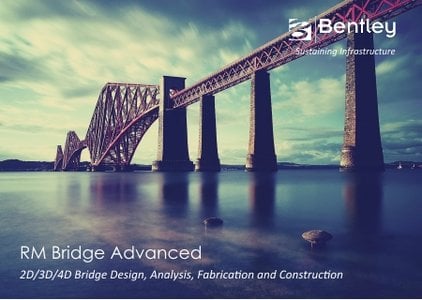 Bentley RM Bridge Advanced CONNECT Edition v10.03.01.01
4 January 2018
Bentley RM Bridge Advanced CONNECT Edition v10.03.01.01
Perform bridge design, analysis, and construction simulation to determine resiliency during seismic and natural events and analyze rolling stock. You can streamline massive analytical tasks and save time on complex engineering issues by taking a more integrated approach in the design and construction of your bridge systems. Apply visual processes that quickly generate information from multiple disciplines to make engineering decisions. You can also leverage intraoperability with OpenRoads and OpenBridge Modeler to visually determine how your proposed bridge impacts existing and proposed project elements. Visualize the positions, directions, and magnitudes of loads graphically.
Automate your complex design and engineering challenges with powerful specialized options:
– RM Bridge Advanced:
Fully integrate your modeling, analysis, and design for smooth project delivery.
Add-on modules for specialized activities such as advanced earthquake analysis, rolling stock analysis, erection control, simulation of wind-tunnel tests, wind buffeting, and others, include:
– RM Bridge Advanced Non-linear
Provides advanced features for dealing with non-linearity of the structural behavior.
– RM Bridge Advanced Dynamic
Perform special tasks in earthquake engineering and high-speed rail design with a non-linear time history algorithm.
– RM Bridge Advanced Construction
Consider the influence of special money-saving construction techniques and provide exact data on deformation states throughout the erection process and camber requirements.
– RM Bridge Advanced Cable
Calculate the non-linear effects of cable sagging on cable-stayed and suspension bridges.
– RM Bridge Advanced Wind
Simulate wind tunnel tests and perform sophisticated wind buffeting analysis, as well as design code checks.
– RM Bridge Cast (stand-alone)
Achieve maximum precision control for the casting process for precast segmental construction, especially on curved structures.