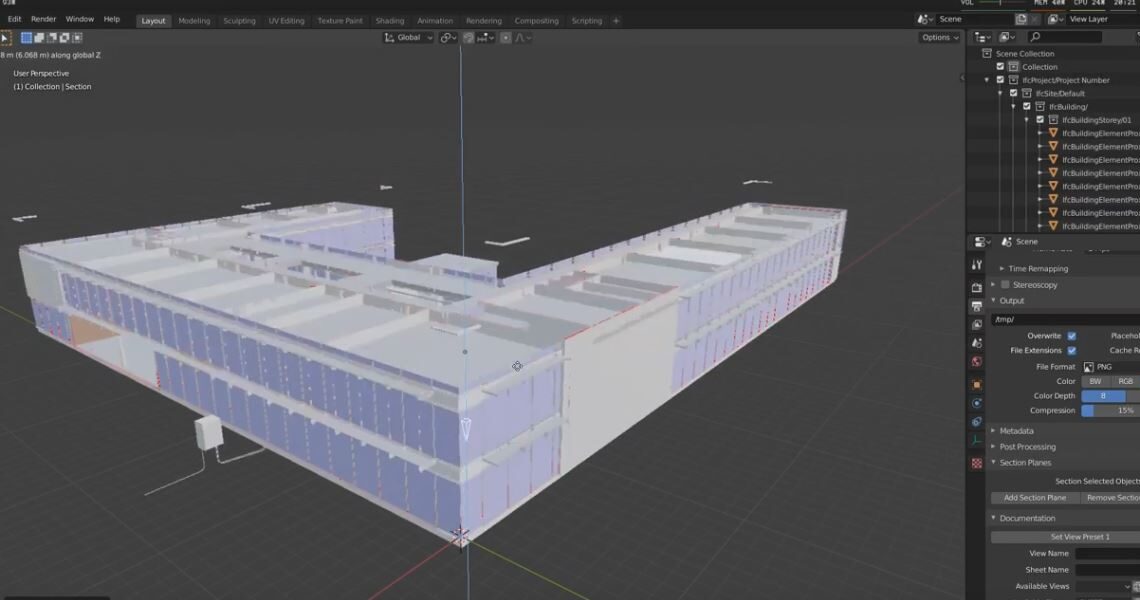 BlenderBIM: An open source solution for BIM projects?
7 November 2021
BlenderBIM: An open source solution for BIM projects?
If you've never heard of Blender, it's only a matter of time! In short, this is freely accessible graphics software, which offers, for example, 3D modeling, simulation, rendering, composition, motion tracking, video editing and animation pipeline functionalities. Created in 1998, it is currently being developed by the Blender Foundation.
Since 2019, the software has been increasingly recognized by companies in the graphics industry, such as Epic Games, Ubisoft or NVIDIA.
What's new for us:
The BlenderBIM add-on has been around for some time: a specific add-on for Open BIM processes that rely on the BuildingSmart IFC format. It is built by volunteers from the IfcOpenShell project, still in development mode, and constantly evolving.
A new free BIM tool, on software recognized in the world of graphics, and capable of understanding the IFC format. What more ? This is how we focused our attention on the possibilities of this add-on. Is it possible to analyze and modify the data contained in an IFC for example? We summarize everything:
By default, in Blender, collections contain objects that have location, materials, etc. With BlenderBIM, we get several additional properties and functionalities: durability, price, description, globalID, assignment of IFC classes, assignment of attributes and sets of properties to elements, calculations of quantities from the geometry of objects, etc.
Taking into account the ability of this add-on to interpret the IFC format, we therefore asked ourselves the following question: can we think that Blender, technical and cutting-edge software in the field of graphics, can represent a help for stakeholders? of a construction project? Since BlenderBIM allows you to make modifications to an IFC mockup, it can be a solution in a BIM project, especially in the operation-maintenance phase.
In fact, during this phase, we start by using the model of the work executed "as built" in IFC format. In order to identify the functionalities this sotftware can offer to a project today, several tests were carried out on blender 2.92.0 (BlenderBIM addon blender28-bim-210404-py37-win, IFC2x3)
So here are examples of options we can obtain quite simply with the help of BlenderBIM:
The ability to view IFC models,
to be able to delete objects (and therefore by extension to divide IFC models by a new save),
To be able able to move objects, and change the values ​​of their properties
To be able to add new attributes to objects from Blender.
This is possible: but the IFC models we can export from Blender do not seem to keep the new properties, we consider that this option is still limited to a concrete deployment on a BIM project.
In short, from our point of view, IFC export remains difficult to master, and still seems to limit the possibilities of modifying the IFC format thanks to Blender.
To take a step back, it is also necessary to consider that this is a software whose technique is quite advanced and whose handling represents several years of practice.
However, we are counting on the meteoric progress of the BlenderBIM add-on to allow us to manipulate IFCs with more freedom in the future.