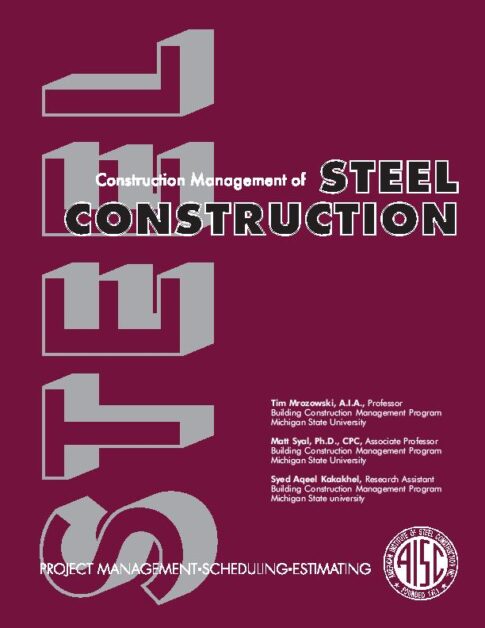 Construction Management of Steel Construction
5 November 2017
Construction Management of Steel Construction
This educational manual was developed for the American Institute of Steel Construction
(AISC) to present the principal project management activities and issues for procuring and
implementing steel construction.
The manual was developed for use in undergraduate university level construction
management programs.
It should also be useful in project management courses in construction engineering,
civil engineering, architectural engineering, and architecture programs.
The manual is intended as a supplemental text which may be incorporated
into junior and senior level projectmanagement, estimating, and scheduling courses.
The manual was developed in two educational modules: Module One addresses
project management activities and Module Two examines scheduling
and estimating issues that pertain to steel construction.
Both educational modules have been designed to help students understand
the unique roles and relationships of the general contractor, steel fabricator,
erector, specialty contractors, suppliers, architect, structural engineer, and
owner in the construction of a structural steel building frame.
While the manual has been specifically developed to address steel construction,
many of the issues presented are also applicable to the management of other
construction subcontracts.
Therefore, this manual may serve as a detailed case study of steel construction which
will help students achieve a broader understanding of construction project management, estimating, and scheduling practices.
It is hoped that faculty teaching this material, will find this steel case study useful as they present the principles of project management, estimating, and scheduling in their courses.
[su_button url="https://drive.google.com/open?id=0B2gXA0Oo2HZ3Zk5kQ3l2eWRpaFk" size="7″ center="yes"]Download Link [/su_button]