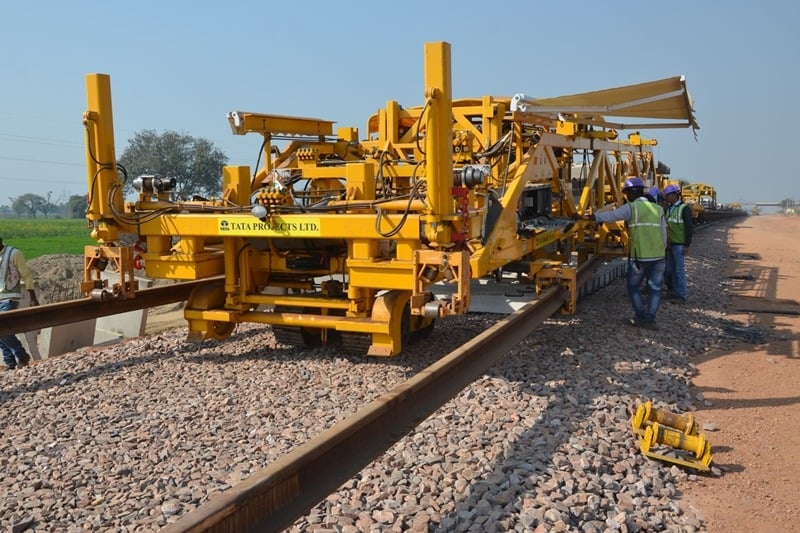 Construction of Railway Track Methods
31 October 2018
Construction of Railway Track Methods
There are three distinct methods of construction of railway track. These are:
Telescopic Method
Tramline Method
Mechanical Method
1. Telescopic Method of Construction of Railway Track
In this method, rails, sleepers and fastenings are unloaded from the material train as close to the rail head as possible. The sleepers are carried by carts or men along the adjoining service road and spread on the ballast. The rails are then carried on pairs to the end of last pair of connected rails and linked.
To carry rails manually over a long distance is a tedious job. So certain carriers called Anderson rail. Carriers are used to carry rails to the ends of the rail head.
It can also take rails up to a head last pair linked with the help of temporary track consisting of 3″ x 3″ angle irons of the same length as rails and fastened to the sleepers.
A further consignment of the material is deposited at the advances rails head and the procedure is repeated.
2. Tramline Method Railway Track Construction
This method is used where tram carrier are installed for carrying earthwork or in rainy season due to difficulty in movement of cart. Some tramline is established on with a gauge of 2′-2′-6″. The basic difference between this and telescopic method lies in the conveyance and spreading of the sleepers.
The track can be assembled at more than one points simultaneously, which is the great advantage of this method. Sometimes an additional track is laid on the side of existing track for which this method is best.
3. Mechanical Method Railway Track Construction
This method is extensively used in Britain and America by using special track laying machine. There are two types of machines available.  In first type of machine, the track material carried by the material. Train is delivered at the rail head and laid in the required position by means of projecting arm or mounted on the truck nearest to the rail head. The material train moves forward on the assembled track and operation is repeated.
In the second type of machines a long cantilevered arm projecting beyond. The wagon on which is fitted. A panel of assembled track consists of pair of rail with appropriate number of sleepers on the ballast layer. This panel is conveyed by special trolley running over the wagons of material train to the jibs. It is lowered by the jib in the required position and connected to the previous panel. The track laying machine then movies forwarded and operation is repeated.