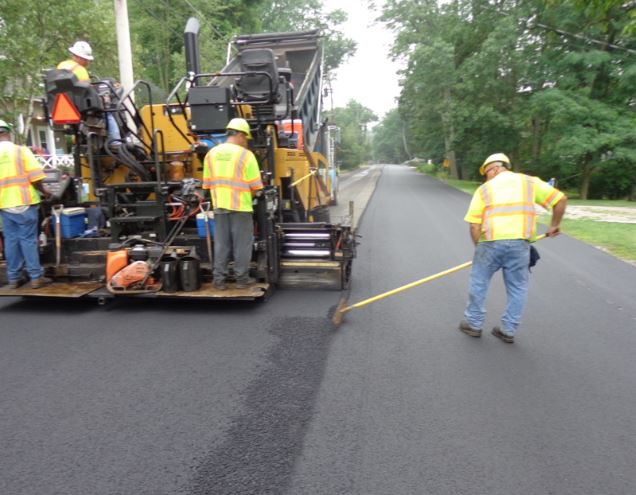 Description And Uses Of Bituminous Binders
30 July 2019
Description And Uses Of Bituminous Binders
 Bituminous binders can be classified into three general groups: asphalt cement, asphalt cutbacks, and emulsified asphalt.
Blown asphalt and road tars are also other types of bituminous material that now are not used commonly in highway construction.
Asphalt Cements
Asphalt cements are obtained after separation of the lubricating oils. They are semisolid hydrocarbons with certain physiochemical characteristics that make them good cementing agents. They are also very viscous, and when used as a binder for aggregates in pavement construction, it is necessary to heat both the aggregates and the asphalt cement prior to mixing the two materials.
For several decades, the particular grade of asphalt cement has been designated by its penetration and viscosity, both of which give an indication of the consistency of the material at a given temperature. The penetration is the distance in 0.1 mm that a standard needle will penetrate a given sample under specific conditions of loading, time, and temperature.
The softest grade used for highway pavement construction has a penetration value of 200 to 300, and the
hardest has a penetration value of 60 to 70. For some time now, however, viscosity has been used more often than penetration to grade asphalt cements.

Asphalt cements are used mainly in the manufacture of hot-mix, hot-laid asphalt concrete, which is described later in this chapter. Asphalt concrete can be used in a variety of ways, including the construction of highways and airport pavement surfaces and bases, parking areas, and industrial floors. The specific use of a given sample depends on its grade. 
Asphalt Cutbacks
The asphalt cutbacks are slow-curing asphalts, medium-curing cutback asphalts, and rapid-curing cutback asphalts. They are used mainly in cold-laid plant mixes, road mixes (mixed-in-place), and as surface treatments.

Slow-Curing Asphalts

Slow-curing (SC) asphalts can be obtained directly as slow-curing straight run asphalts through the distillation of crude petroleum or as slow-curing cutback asphalts by "cutting back" asphalt cement with a heavy distillate, such as diesel oil.
They have lower viscosities than asphalt cement and are very slow to harden. Slow-curing asphalts usually are designated as SC-70, SC-250, SC-800, or SC-3000, where the numbers relate to the approximate kinematic viscosity in centistokes at 60°C (140°F). Specifications for the use of these asphalts are no longer included in The American Association of State Highway and Transportation Officials (AASHTO) Standard Specifications for Transportation Materials.

Medium-Curing Cutback Asphalts

Medium-curing (MC) asphalts are produced by fluxing, or cutting back, the residual asphalt (usually 120 to 150 penetration) with light fuel oil or kerosene. The term medium refers to the medium volatility of the kerosene-type diluter used. Mediumcuring cutback asphalts harden faster than slow-curing liquid asphalts, although consistencies of the different grades are similar to those of the slow-curing asphalts.

However, the MC-30 is a unique grade in this series as it is very fluid and has no counterpart in the SC and RC series.
The fluidity of medium-curing asphalts depends on the amount of solvent in the material. MC-3000, for example, may have only 20 percent of the solvent by volume, whereas MC-70 may have up to 45 percent. These medium-curing asphalts can be used for the construction of pavement bases, surfaces, and surface treatments.

Rapid-Curing Cutback Asphalts

Rapid-curing (RC) cutback asphalts are produced by blending asphalt cement with a petroleum distillate that will evaporate easily, thereby facilitating a quick change from the liquid form at the time of application to the consistency of the original asphalt cement. Gasoline or naphtha generally is used as the solvent for this series of asphalts.

The grade of rapid-curing asphalt required dictates the amount of solvent to be added to the residual asphalt cement. For example, RC-3000 requires about 15 percent of distillate, whereas RC-70 requires about 40 percent. These grades of asphalt can be used for jobs similar to those for which the MC series is used. Specifications for the use of these asphalts are given in AASHTO's Standard Specifications for Transportation Materials.
Emulsified Asphalts
Emulsified asphalts are produced by breaking asphalt cement, usually of 100 to 250 penetration range, into minute particles and dispersing them in water with an emulsifier.
These minute particles have like-electrical charges and therefore do not coalesce. They remain in suspension in the liquid phase as long as the water does not evaporate or the emulsifier does not break.
Asphalt emulsions therefore consist of asphalt, which makes up about 55 to 70 percent by weight, water, and an emulsifying agent, which in some cases also may contain a stabilizer.

Asphalt emulsions generally are classified as anionic, cationic, or nonionic. The first two types have electrical charges surrounding the particles, whereas the third type is neutral. Classification as anionic or cationic is based on the electrical charges that surround the asphalt particles.
Emulsions containing negatively charged particles of asphalt are classified as anionic, and those having positively charged particles of asphalt are classified as cationic.
The anionic and cationic asphalts generally are used
in highway maintenance and construction, although it is likely that the nonionics may be used more frequently in the future as emulsion technology advances.

Each of these categories is further divided into three subgroups based on how rapidly the asphalt emulsion returns to the state of the original asphalt cement. These subgroups are rapid-setting (RS), medium-setting (MS), and slow-setting (SS).

A cationic emulsion is identified by placing the letter "C" in front of the emulsion type; no letter is placed in front of anionic and nonionic emulsions. For example, CRS-2 denotes a cationic emulsion, and RS-2 denotes either an anionic or nonionic emulsion.

Emulsified asphalts are used in cold-laid plant mixes and road mixes (mixedin-place) for several purposes, including the construction of highway pavement surfaces and bases and in surface treatments.
Note, however, that since anionic emulsions contain negative charges, they are more effective in treating aggregates containing electropositive charges (such as limestone), whereas cationic emulsions are more effective with electronegative aggregates (such as those containing a high percentage of siliceous material).
Also note that ordinary emulsions must be protected during very cold spells because they will break down if frozen. Three grades of high-float, medium-setting anionic emulsions designated as HFMS have been developed and are
used mainly in cold and hot plant mixes and coarse aggregate seal coats. These highfloat emulsions have one significant property: They can be laid at relatively thicker films without a high probability of runoff.
Specifications for the use of emulsified asphalts are given in AASHTO M140 and
ASTM D977.
Blown Asphalts
Blown asphalt is obtained by blowing air through the semisolid residue obtained during the latter stages of the distillation process.
The process involves stopping the regular distillation while the residue is in the liquid form and then transferring it into a tank known as a converter. The material is maintained at a high temperature while
air is blown through it.
This is continued until the required properties are achieved.
Blown asphalts are relatively stiff compared to other types of asphalts and can maintain a firm consistency at the maximum temperature normally experienced when exposed to the environment.

Blown asphalt generally is not used as a paving material. However, it is very useful  as a roofing material, for automobile undercoating, and as a joint filler for concrete pavements.
If a catalyst is added during the air-blowing process, the material obtained usually will maintain its plastic characteristics, even at temperatures much lower than that at which ordinary asphalt cement will become brittle. The elasticity of catalytically blown asphalt is similar to that of rubber, and it is used for canal lining.
Road Tars
Tars are obtained from the destructive distillation of such organic materials as coal.
Their properties are significantly different from petroleum asphalts. In general, they are more susceptible to weather conditions than similar grades of asphalts, and they set more quickly when exposed to the atmosphere. Because tars now are used rarely for highway pavements, this text includes only a brief discussion of the subject.

The American Society for Testing Materials (ASTM) has classified road tars into three general categories based on the method of production.
Gashouse coal tars are produced as a by-product in gashouse retorts in the manufacture of illuminating gas from bituminous coals.

Coke-oven tars are produced as a by-product in coke ovens in the manufacture of
coke from bituminous coal.
Water-gas tars are produced by cracking oil vapors at high temperatures in the
manufacture of carburated water gas.
Road tars also have been classified by AASHTO into 14 grades: RT-1 through RT-12, RTCB-5, and RTCB-6. RT-1 has the lightest consistency and can be used effectively at normal temperatures for prime or tack coat (described later in this
chapter).
The viscosity of each grade increases as the number designation increases to RT-12, which is the most viscous. RTCB-5 and RTCB-6 are suitable for application during cold weather, since they are produced by cutting back the specific grade of tar with easily evaporating solvent. Detailed specifications for the use of tars are given by AASHTO Designation M52-78.