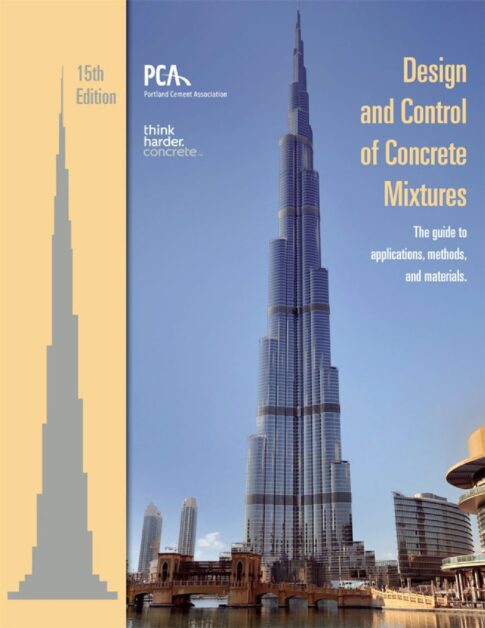 Design and Control of Concrete Mixtures
1 December 2017
Design and Control of Concrete Mixtures
Design and Control of Concrete Mixtures has been the cement and concrete industry's primary reference on concrete technology for over 85 years. Since the first edition was published in the early 1920s, the U.S. version has been updated 15 times to reflect advances in concrete technology and to meet the growing needs of architects, engineers, builders, concrete producers, concrete technologists, instructors, and students.
This fully revised 15th edition was written to provide a concise, current reference on concrete, including the many advances that occurred since the last edition was published in 2002. The text is backed by over 95 years of research by the Portland Cement Association. It  reflects the latest information on standards, specifications, and test methods of ASTM International (ASTM), the American Association of State Highway and Transportation Officials (AASHTO), and the American Concrete Institute (ACI).
Concrete's versatility, durability, sustainability, and economy have made it the world's most widely used construction material. The term concrete refers to a mixture of aggregates, usually sand, and either gravel or crushed stone, held together by a binder of cementitious paste. The paste is typically made up of portland cement and water and may also contain supplementary
cementing materials (SCMs), such as fly ash or slag cement, and chemical admixtures Understanding the basic fundamentals of concrete is necessary to produce quality concrete. This publication covers the materials used in concrete and the essentials required to design and control concrete mixtures for a wide variety of structures.
Download Link:
https://drive.google.com/open?id=1-Yj2GPNN8Z7jGd1Gk0LkMCUVYLmRWdE_