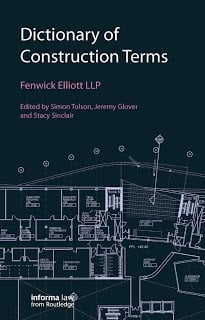 Dictionary of Construction Terms
12 December 2017
Dictionary of Construction Terms
This Dictionary of Construction Terms is intended to cover a wide range of the more common as well more esoteric yet important terms a building professional,
lawyer, student, judge, arbitrator, adjudicator, engineering economist or the like may require defi nition upon in the construction law fi eld.
The intention is to clear the fog, and to do so concisely in clear English in an alphabetical format.
So whether you are looking for the answer to a spandrel panel, chequerplate, revetment,
or NAECI or what is meant by nemo dat quod non habet or the rule in Pinnel's case, we have it here, and a whole lot more.
In about 1994 I started assembling a construction database on my Psion Organiser
(for those that can remember such pocket computers) regularly adding building and engineering terms,
legal references etc relevant to the fi rm's work as construction lawyers.
I was always excited to learn new terms and add to the record. Then about 10 years ago with the advent of powerful networked computing and software systems,
Fenwick Elliott created its own intranet platform, and that database was uploaded toit.
It was coined by the offi ce, "Simon Says".
This data rapidly grew with our busy international practice and with projects
that are more complex the legal issues thrown up blossomed in tandem with the new technologies.
[su_button url="https://drive.google.com/open?id=1IY3NMG58plXDIXwY02gBA6vUTQql9bTM" size="7″ center="yes"] Download Link[/su_button]