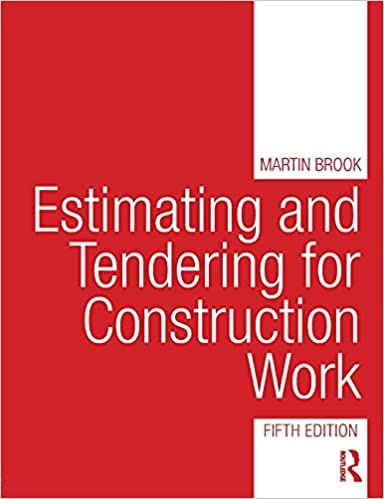 Estimating and Tendering for Construction Work Fifth Edition Free PDF
14 May 2022
Estimating and Tendering for Construction Work Fifth Edition Free PDF
Estimators need to understand the consequences of entering into a contract, often defined by complex conditions and documents, as well as to appreciate the technical requirements of the project. Estimating and Tendering for Construction Work, 5th edition, explains the job of the estimator through every stage, from early cost studies to the creation of budgets for successful tenders.
This new edition reflects recent developments in the field and covers:
• new tendering and procurement methods;
• the move from basic estimating to cost-planning and the greater emphasis placed on partnering and collaborative working;
• the New Rules of Measurement (NRM1 and 2), and examines ways in which practising estimators are implementing the guidance;
• emerging technologies such as BIM (Building Information Modelling) and estimating systems which can interact with 3D design models.
With the majority of projects procured using design-and-build contracts, this edition explains the contractor's role in setting costs, and design statements, to inform and control the development of a project's design.
Clearly written and illustrated with examples, notes and technical documentation, this book is ideal for students on construction-related courses at HNC/HND and degree levels. It is also an important source for associated professions and estimators at the outset of their careers.