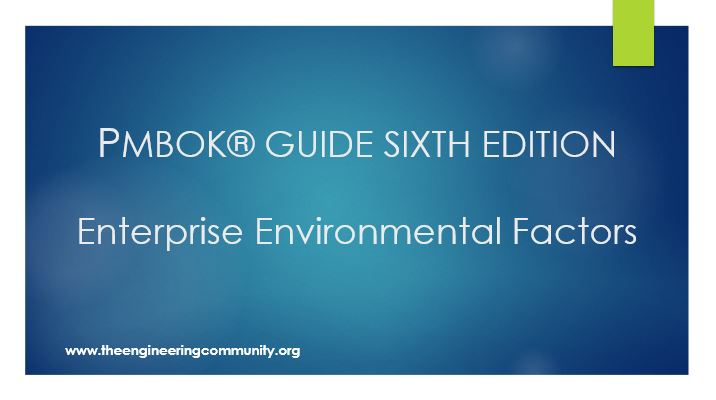 PMBOK® GUIDE SIXTH EDITION Enterprise Environmental Factors
7 March 2021
PMBOK® GUIDE SIXTH EDITION
Enterprise Environmental Factors
Enterprise environmental factors (EEFs) refer to conditions, not under the control of the project team, that influence, constrain, or direct the project. Enterprise environmental factors are considered inputs to most planning processes, may enhance or constrain project management options, and may have a positive or negative influence on the outcome. EEFs vary widely in type or nature.
These factors need to be considered if the project is to be effective. EEFs include, but are not limited to, the factors below.
The following EEFs are internal to the organization:
Organizational culture, structure, and governance. Examples include vision, mission, values, beliefs, cultural norms, leadership styles, hierarchy and authority relationships, organizational styles, ethics, and codes of conduct.
Geographic distribution of facilities and resources. Examples include factory locations, virtual teams, shared systems, and cloud computing.
Infrastructure. Examples include existing facilities, equipment, organizational telecommunications channels, information technology hardware, availability, and capacity.
Information technology software. Examples include scheduling software tools, configuration management systems, web interfaces to other online automated systems, and work authorization systems.
Resource availability. Examples include contracting and purchasing constraints, approved providers and subcontractors, and collaboration agreements.
Employee capability. Examples include existing human resources expertise, skills, competencies, and specialized knowledge.