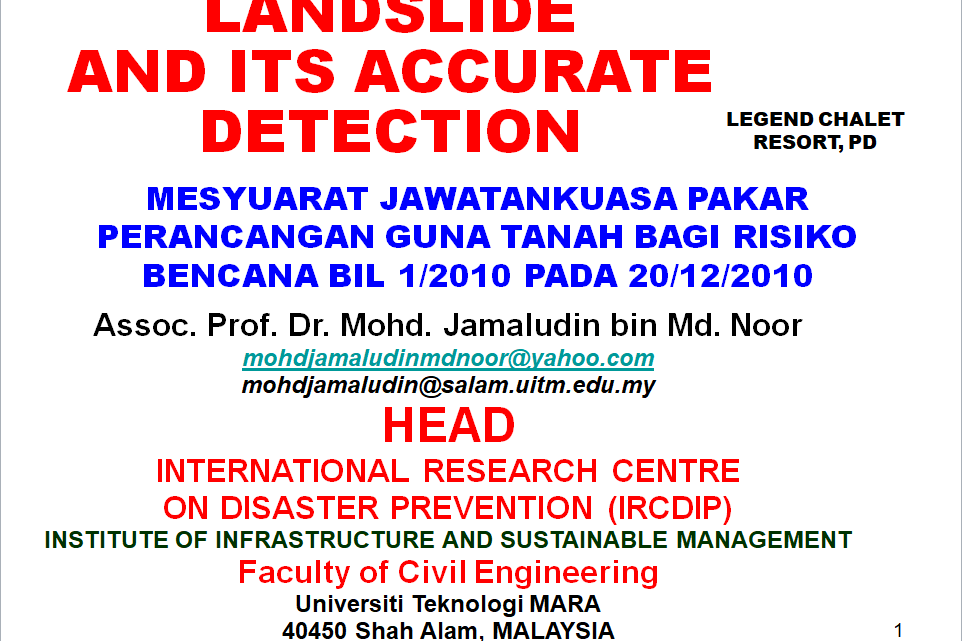 Landslide and its accurate detection Presentation
24 July 2019
Landslide and its accurate detection Presentation
LANDSLIDE: CONTENT OUTLINE
HOW RAINFALL TRIGGERS LANDSLIDE ?
WHY CAN'T GEOTECH. ENGINEERS PREDETECT LANDSLIDE ?
WHY SLOPE WHICH HAS BEEN STANDING FOR MANY YEARS SUDDENLY FAIL ?
WHY IS IT SO DIFFICULT TO DETECT POTENTIAL LANDSLIDE ? AND WHAT MAKE IT SO COMPLEX ?
WHY LANDSLIDE IS ALWAYS ASSOCIATED WITH ELEVATION OF GROUNDWATER TABLE (GWT) ?
DOES GWT HAS INFLUENCE ON RAINFALL-INDUCED LANDSLIDE IN HIGH GROUND ?
WHAT IS THE ADVANTAGE OF INFILTRATION TYPE SLOPE STABILITY METHOD ?
WHAT IS THE ACTUAL SOIL SHEAR STRENGTH BEHAVIOUR ?
HOW TO CONDUCT EFFECTIVE SLOPE MONITORING TO DETECT RAINFALL- INDUCED LANDSLIDE?
WHICH SLOPE STABILITY METHOD IS THE MOST RELIABLE ?
WHAT IS REQUIRED FOR A RELIABLE SLOPE STAB. SOFTWARE?
IS THERE ANY SOFTWARE FOR ACCURATE DETECTION OF LANDSLIDE ?