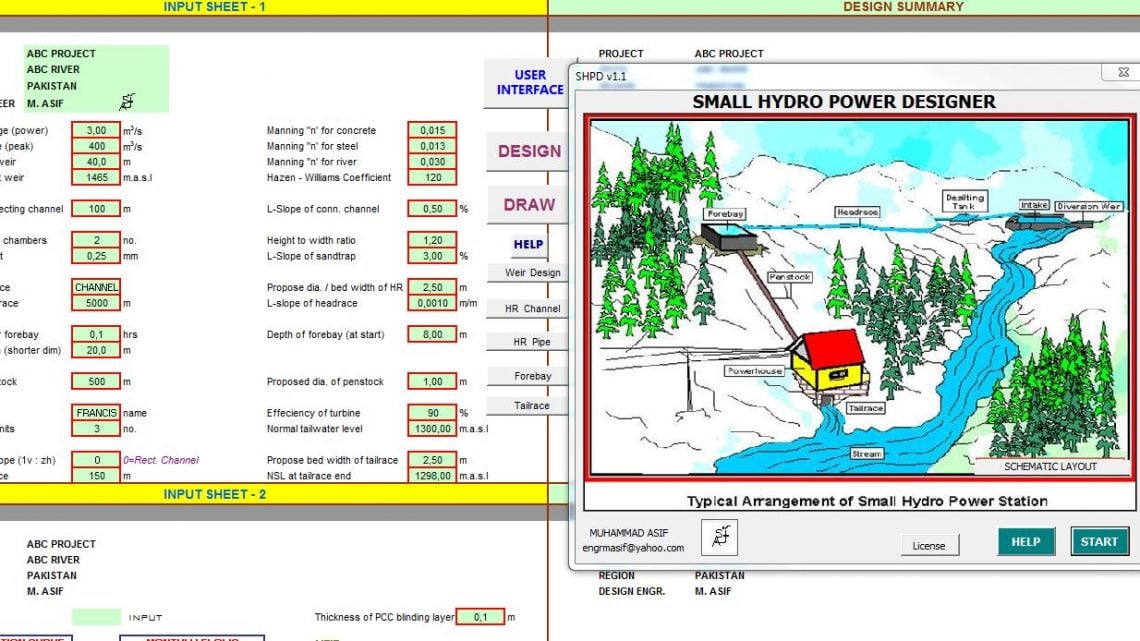 SMALL HYDRO POWER DESIGNER v1.1
8 March 2019
SMALL HYDRO POWER DESIGNER v1.1
SMALL HYDRO POWER DESIGNER V1.1 is an excel workbook equipped with useful design tools for feasibility level analyses / designs of high and medium head hydropower projects (upto 15 MW). However, the user can modify the workbook to include additional modules suited for larger projects.
SHPD can assist in quickly producing layout alternatives, making reasonable cost estimates / cost comparisons for these alternatives and preparing concrete outline drawings of major structures using AutoCAD. SHPD is a freeware intended for engineering students as well as practising hydropower engineers.
A user interface is also provided for assisstance of new users. The workbook and interface both have been created using Excel 2007 Professional Plus (vista) and are ensured to work correctly only for the same version.

Typical layout of small hydro components adopted in SHPD is like this;
Connecting channel from intake to sandtrap

Concrete sandtrap with spilling and flushing controls

Headrace (Channel or Pipe)

Forebay with spilling and flushing controls

Powerhouse (Building Size + Hints on Turbine Selection)