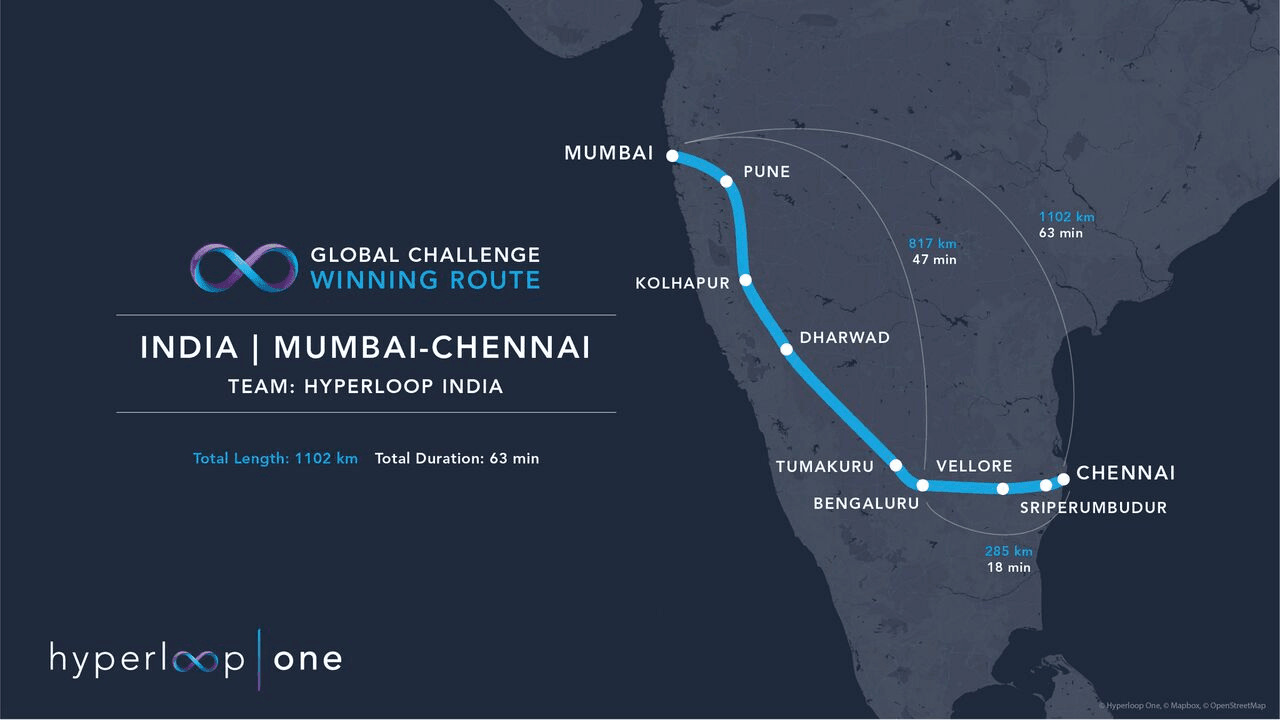 Two Hyperloop Routes Look To Address India's Overburdened Transport Networks
5 October 2017
Two Hyperloop Routes Look To Address India's Overburdened Transport Networks
The Hyperloop One Global Challenge served as a rallying call for ambitious teams worldwide looking to improve how cities, regions and countries get around by via Hyperloop networks. India was a creative hotspot for Challenge entries.
Six teams in India advanced to the semifinalist stage thanks to forward-thinking proposals to build Hyperloop projects in the country. Two of these teams, Hyperloop India and AECOM India, were selected among the ten winners of the Challenge.
Their proposals could hold the key to providing better connectivity for India's growing passenger and freight demand.
India is home to one of every six humans on the planet. Currently, the impact of transportation congestion has profound effects on its people and economy.
The average commuter spends 91 minutes idling in crowded streets. Traffic delays cost the economy 43,000 crores ($6.6 billion) per year, or a staggering 96,000 crores ($14.7 billion) including fuel costs.
Overcrowding is also a big issue for India's giant rail network, which moves more than 23 million passengers daily — nearly the entire population of Australia.
Prime Minister Narendra Modi has set in motion a robust infrastructure agenda to accelerate India's economic growth while meeting the needs of a rapidly urbanizing society.
Both these teams feel that it is key to embrace progressive technologies like Hyperloop to help relieve congestion on existing inter-city modes of travel.
The Mumbai – Chennai corridor proposed by Hyperloop India, a consortium of student volunteers from top engineering and business schools such as BITS Pilani, Indian School of Business and IIM Ahmedabad, enhances the value of one of the government's strategic corridors by creating a new super-metro network of 34 million people, an east-west freight link and an air transport super-hub.
Mumbai to Chennai is currently a multi-hour or even multi-day journey. Hyperloop would shrink that to 60 minutes, creating the largest agglomeration, or contiguously connected urban area, of people in the world.
Linking two or more cities together in a matter of minutes creates "virtual" density and higher economic productivity.
The potential east-west freight link would facilitate a new trade dynamic by reducing the freight transit time between the Arabian Sea and the Bay of Bengal from three days to less than three hours.
Hyperloop would connect large economic centers including Mumbai, Bengaluru, and Chennai with smaller regional cities, accelerating India's vision of creating an industrial corridor that increases the competitiveness of the three capital cities and the economies of the regional cities along the route.
The higher speeds of a Hyperloop One system would provide businesses with greater access to resources and talent.
The proposal also demonstrated a strong case for how Hyperloop could integrate with existing modes of transportation, providing first and last mile connectivity within each city along the route.
The team recently engaged with Bangalore Metro and others to develop an innovative approach to solving first and last mile connectivity issues for existing metro systems in the region.
"We see integrating the complete value chain (first mile – transit – last mile) of public transit from doorstep to doorstep as crucial to providing the delightful customer experience that makes people switch from other, unsustainable forms of transport," said Sibesh Kar, Hyperloop India team lead.
"We hope winning the Hyperloop One Global Challenge and working alongside Hyperloop One to realize the common future of on-demand, packetized, public transit will not only pave the way for radical transit leapfrogs like the Hyperloop in the future, but also incentivize a shift towards widespread shared mobility, in India and outside," said Kar.
AECOM India leveraged its years of expertise providing planning and engineering services for large, complex infrastructure projects across India to tailor a proposal to connect Bengaluru – Chennai.
This route would connect Bengaluru, the fourth largest technology cluster in the world, with the port city of Chennai, a locus for automotive and high-tech manufacturing.
The proposed 334-km system would use the existing NH-4 highway right-of-way, and reduce a greater than four-hour car journey to just over 20 minutes with Hyperloop.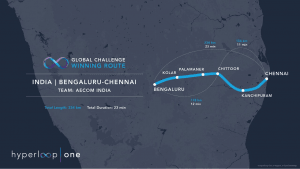 The projected passenger flow along this corridor is expected to grow to 130 million journeys per year by 2035, according to the Chennai Bangalore Industrial Corridor (CBIC) development plan.
The plan further forecasts that by the year 2033, the Bengaluru-Chennai route will carry 65.2 million tonnes of freight in both directions. Today, 95 percent of landside container movement from the ports are done by trucks, with the remaining five percent by rail. The proposed Hyperloop route could divert passenger traffic from increasingly congested roadways.
At the same time, Hyperloop would help relieve major freight bottlenecks at the ports by shuttling containers and pallets continuously and reliably to inland container depots in Chennai as well as those near Bengaluru.
Hyperloop would also enable urban centers along the route to draw in resources and workers from further distances. "Enhanced connectivity [made possible by Hyperloop could] result in a flow of resources from developed cities to remote areas as well as people from the suburbs seeking more opportunities.
This will alleviate housing needs in developed areas by allowing people to live in remote, less expensive areas and still have easy access to opportunities," according to the AECOM proposal.
Additionally, the proposal looks to improve airline travel in the region. According to the proposal, the Bengaluru airport is using 101% of its annual utilization capacity while Chennai airport is only at 52% capacity. A hyper-fast connection between the airports could ease capacity pressures and help boost air travel in the region.
We believe Hyperloop One's technology aligns with Prime Minister Modi's vision for a stronger and more prosperous India by connecting far-flung cities Indian cities as if they were metro stops, creating a lasting impact for India.
We're excited to rally behind the Hyperloop One Global Challenge winning teams from India as they look to re-imagine travel in the country with Hyperloop.