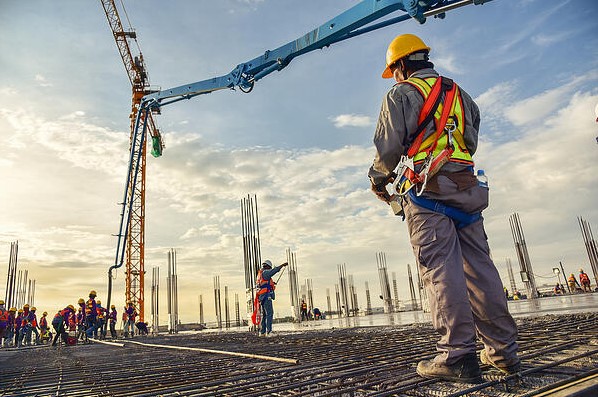 What is Pumped Concrete? Advantages of Pumped Concrete
28 August 2022
What is Pumped Concrete? Advantages of Pumped Concrete
What is Pumped Concrete:
The method in which the fresh concrete is pumped to the area where the concreting work to be done is called as pumped concrete. For small work, concreting can manually be done, but for large scale work, concreting is efficiently done by pumping.
Concrete pumps are generally mounted on a truck or on a trailer. Pumps can be operated by electric power or diesel. Pipeline pumping system has a diameter between 100mm to 180mm. Diameter size of 125mm is must probably adopted for pumping the concrete.
Modern and advanced handy or portable concrete pumps have more power, high capacity and absolutely reliable hydraulic system and these pumps can take the fresh concrete to a height near about 600 m and also can take the concrete in horizontal distance near about 200 m.
Pumps have fully hydraulic, compact and dirt resistance control system. Hydraulic pump is output regulated and hence require less power utilization at an ideal speed and pressure.
Taper and a clamping device is provided to the outlet portion of the pump so as to connect the pipeline. The outlet portion is easy to clean and also has a simple side swing. The agitator maintains the concrete in an agitated form in between two batches of concrete fed into the hopper.
The concrete pump unit is mounted one the chassis of a tuck and drive of the hydraulic pump is driven from the engine of truck directly. Water pump is joined to the water tank and it is driven hydraulically.
The pump capacity is in m3/hr and it depends on a distance of pumping the concrete, diameter of delivery line and the maximum line pressure.
Concrete pumping capacity depends upon the following factors:
Horizontal pipe length through which concrete can be pumped.
Vertical pipe length through which concrete can be pumped.
Number of bends in pipe line.
Diameter of delivery pipe line.
Length of flexible hose pipe.
Number of reducers in the pipe line.
Workability of concrete and its cohesiveness.
Type and size of aggregates used in the concrete.
Proportion of ingradients in the concrete.
Advantages of Pumped Concrete:
Following are the advantages of pumping the concrete for casting the various member of the structures:
Concrete can be moved horizontally as well as vertically at a time
It provides a good quality control.
Concreting by pumping is the most effective and sensitive method because any variation in concrete mix can be easily rectified at the pumping point by observing the pumping pressures and hence there is a proper control on consistency and workability of concrete.
It refuses to handle any concrete which is unduly harsh, non-cohesive, inadequately mixed, improper consistency.
No wastage of concrete if casting work done by pumping, but there is more wastage of concrete if casting work is done manually.
Pumped concrete has high workability and good cohesion which provides good finish and ultimate strength.
By pumping system, concrete can be placed in inaccessible areas.
Mass concreting work can be carried out in a limited time with high speed without cold joints.
For high rise building, pumped concrete method is best suitable, economical and faster.
Pipeline for delivery of the concrete require a very less space and can be easily extended to the desired height and can be easily removed.
The total unit of pumped concrete helps to complete the contacts within the prescribed time given in agreement. It also reduces the site-overheads.