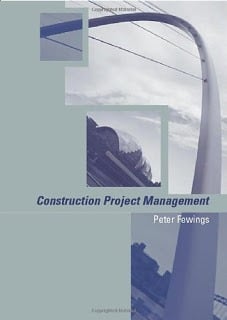 Construction Project Management
4 December 2017
Construction Project Management
Many books have been written on project management and there are two
approaches to it. One deals mainly with the tools and techniques of project
management and provides instruction on what they are and how to use
them. The other approach takes a managerial viewpoint and is concerned
more with the context and the way in which decisions are made and the
tools which are most appropriate in that situation. This book is more allied
to the managerial approach, analysing how techniques have been applied
in traditional and best practice and synthesising additional guidance on
evaluating contextual factors, which make the projects unique.
In construction in particular, there is a long history of project management
and standard systems have been set up which have become comfortable, but
have not always produced the best value for the client. Every project is
different and has at least a unique location, and due to the time and budget
constraints the final product is an untested prototype, which has been subject
to continuing design variations. Therefore, at first, it is a particular challenge
to an industry that has not standardised its products.
[su_button url="https://drive.google.com/open?id=1Yb30fNs9GlxfNc1cWVvfQ4AB2Soe3L38″ size="7″ center="yes"] Download Link[/su_button]