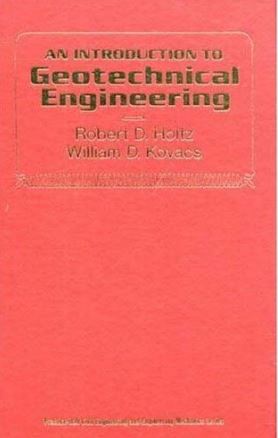 An Introduction to Geotechnical Engineering – Holtz & Kovacs Free PDF
14 January 2021
An Introduction to Geotechnical Engineering – Holtz & Kovacs Free PDF
An Introduction to Geotechnical Engineering is intended for use in the first of two-course sequence in geotechnical engineering usually taught to third- and fourth-year ungraduate Civil Engineering students.
We assume that students have a working knowlege of ungraduate mechanics, especially statics and mechanics of materials (including fluids).
A knowledge of basic geology, although helpful, is not essential. We introduce the « language » of geotechnical engineering in the first course, that is, the classification and engineering properties of soils.
Once the student have a working knowledge of how soil behaves as an engineering material, he/she can begin to predict soil behavior, and in the second course , to carry out the design of simple foundations and earthquake systems.