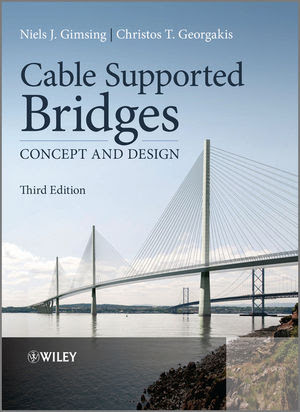 Cable Supported Bridges – Concept And Design Free PDF
13 January 2021
Cable Supported Bridges – Concept And Design Free PDF
The decision to prepare a manuscript for a book titled CABLE SUPPORTED BRIDGES was taken by Niels J. Gimsing in 1980 following his three-year affiliation as an adviser on bridge technology to Statsbroen Store Bœlt—the client organization established to design and construct a bridge across Storebælt (Great Belt) in Denmark.
During the design period from 1976 to 1979, a large number of different designs for cable-stayed bridges (with spans up to 850 m) and suspension bridges (with spans up to 1800 m) were thoroughly investigated and it was during that period the idea matured to write a book covering both cable-stayed bridges and suspension bridges.
The chance to prepare the manuscript came in 1979 when the Danish Government decided to postpone the construction of the Storebælt Bridge and to keep the design work at rest for a period of five years.
Content :
1 Evolution of Cable Supported Bridges
2 Cables
3 Cable System
4 Deck (Stiffening Girder)
5 Pylons
6 Cable Anchorage and Connection
7 Erection
8 Aerodynamics
9 Particular Issues