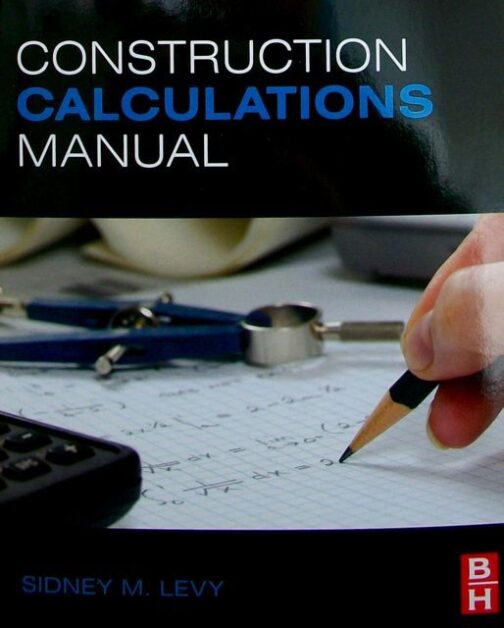 Construction Calculations Manual
17 November 2017
Construction Calculations Manual
Construction Calculations provides the construction, engineering, and project owner community with a single
source guide for many of the formulas and conversion factors that are frequently encountered during the design and construction phase of a project.
The geometry and trigonometry lessons learned years ago sometimes need refreshing. Construction Calculations provides a refresher course on some of the formulas and concepts that tend to crop up from time to time.
A book divided into sections devoted to most of the common components of construction makes it easier
to determine how to achieve a Sound Transmission Coefficient (STC) rating of 50, for example, or how to equate
the amperage capacity of copper and aluminum cable of the same wire size.
A detailed index preceding each section makes it easy to locate the answer to one's question or at least points
the way to its solution.
The National Institute of Standards and Technology (NIST) (formerly the National Bureau of Standards) was
established by Act of Congress in 1901 to serve as a national scientific laboratory in the physical sciences, and to
provide fundamental measurement standards for science and industry. In carrying out these related functions, the
Institute conducts research and development in many fields of physics, mathematics, chemistry, and engineering.
At the time of its founding, the Institute had custody of two primary standards—the meter bar for length and
the kilogram cylinder for mass. With the phenomenal growth of science and technology over the past century,
the Institute has become a major research institution concerned not only with everyday weights and measures,
but also with hundreds of other scientific and engineering standards that are necessary to the industrial progress
of the nation. Nevertheless, the country still looks to NIST for information on the units of measurement,
particularly their definitions and equivalents.
[su_button url="https://drive.google.com/open?id=1cPvz-jdc9wdQae6tVOBZ_oDmPmyW21ON" size="7″ center="yes"]Download Link [/su_button]