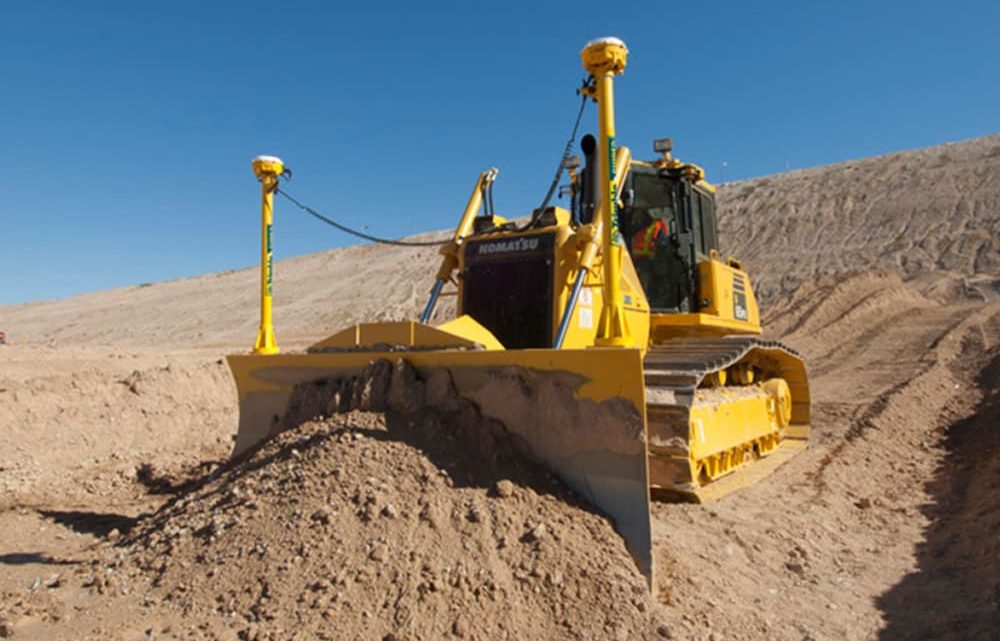 High Tech for Hard Hats
27 November 2018
High Tech for Hard Hats
A Caterpillar dozer can weigh up to100 tons of steel, powered by over 800 horsepower behind a 12-foot wide blade. It moves dirt—tons of it—literally leveling hills, making roadways, sites for campuses, skyscrapers. Armored dozers have been used in war, destroying berms that were made to guard against the U.S. invasion of Iraq in 2003. Nothing in their way stood a chance. It was the modern-day rendition of Hannibal's elephants. You'd expect the operator of anything so potentially devastating to be paying very close attention to where the machine is heading. But look at a modern construction site, and you would probably see the operator absorbed in his Android tablet.
Relax. He's not watching videos on Hulu. What he's watching can greatly accelerate the pace of a construction project, reduce use of materials, and provide precision from a machine that belies its size.
The tablet in question (a TD250) is like one you might buy, except it can withstand the bumps and grinds of a construction site—the shock, vibration, and rough terrain. "An iPad just won't cut it," says Martin Wagener, expert of Trimble's precise positioning on dozers (his official title is Worldwide Product Implementation manager, Civil Engineering at Trimble). The specially-ruggedized Android tablet ($3K replacement cost) can be seen in bright sunlight. It can also take a wider range of temperature extremes.
"One is made for watching videos in my living room," says Martin. "The other is made for work."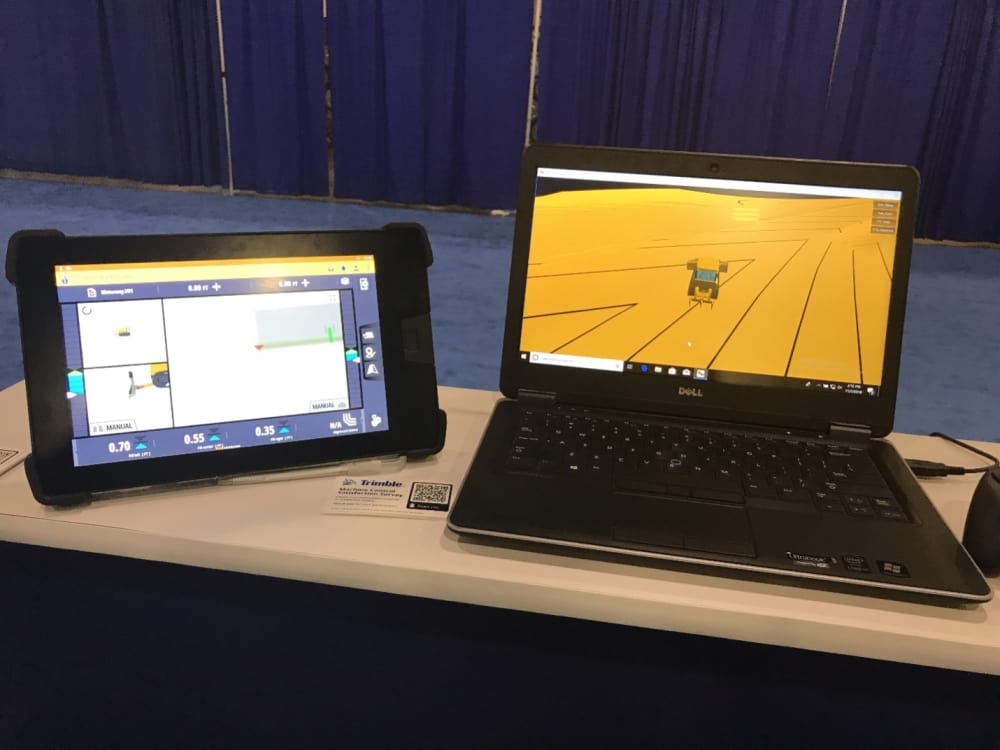 A Trimble TD250, left, is part of the retrofit Earthworks system for dozers. It is displayed at Dimensions 2018, Trimble's bi-annual user meeting. Picture it rigidly mounted inside the dozer cabin.
A properly outfitted dozer, with sensors on its blade, is relaying its exact position and orientation to the tablet 20 times a second to the TD250 tablet as it scrapes the ground. Let's combine what the blade is seeing to the graded surface model (the final product) and the operator will know exactly if the blade is digging too deep, not enough, or if it is on the right path—and let the operator make adjustments.
"We don't expect dozer operators to take classes to have to learn how to use Earthworks," says Martin. Indeed, the Earthwork app does seem to be drop-dead easy to use.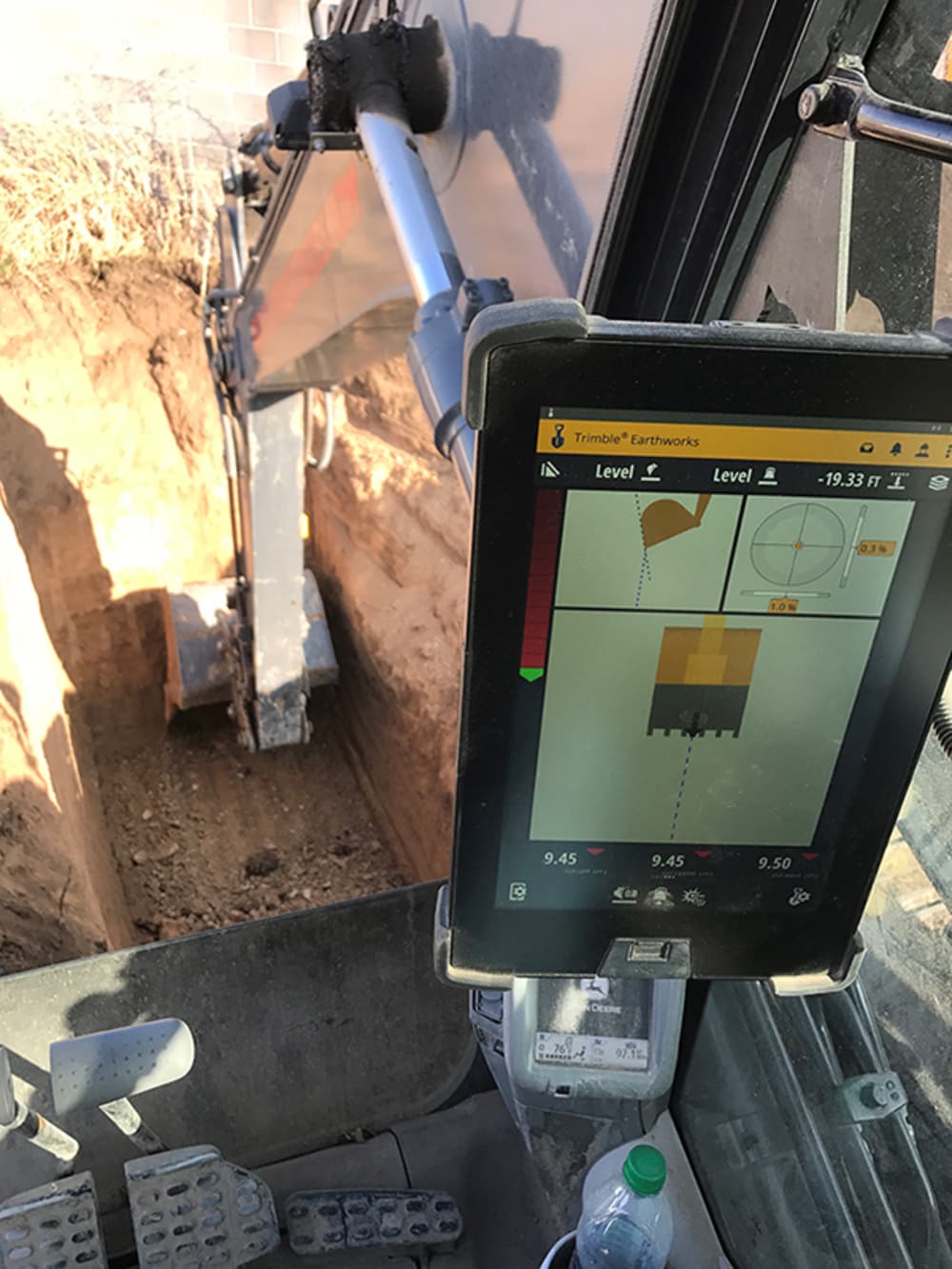 The perfect pit. Excavator bucket position being precisely controlled by Trimble Earthworks for Utah-based Rock Structures; the company has said the Earthworks system prevented over digging and reduced spending on fill-in material. (Picture courtesy of Trimble.)
A more evolved version of the Trimble Earthworks system will be able to control the blade by itself, rather than rely totally on a human operator.
Trimble Earthworks for dozers was introduced last year. More recent is Earthworks for excavators. Sensors on the bucket and arm of the excavator feed into the tablet, which shows the digging against the construction model.
"I can control a grade to within 3/10 of an inch," one operator is quoted as saying in a Trimble case history. The software is said to prevent the bucket from exceeding the limits of the dig, as governed by the 3D construction model. Machine operators who used to over dig can now dig more precisely. The same excavation says their newfound ability to dig as needed but not a shovelful more has helped save cost of material. "We use half the gravel to fill in the hole now as we did before," he says.
Guiding a giant machine to move one pebble without touching the one next to it involves a sequence of technologies. Satellite data (GPS) provide the position, in this case to the sensors on the earthmovers, for the right street address. Triangulation between cell towers will put the excavator buckets and dozer blades within feet of the target. Zeroing in on the final fractions of an inch comes with lasers and IMUs (inertial measuring units). An IMU—now commonly found in smart phones—can tell where they are even without a signal.
Super precise positioning seems to be Trimble's forte. The company, founded by Charley Trimble in 1978, has prided itself as being the surveyor's favorite, its line of sight surveying equipment the gold standard of the industry. The company has reinvented itself with each wave of technological advances, embracing lasers, point clouds, drones and design software. It's acquisition of SketchUp alone has vaulted it to the lead in number of 3D CAD users. Whatever can be used to locate precisely on Earth—whether the technology uses satellites, cell towers, lasers or IMUs—count on Trimble to be on top of it.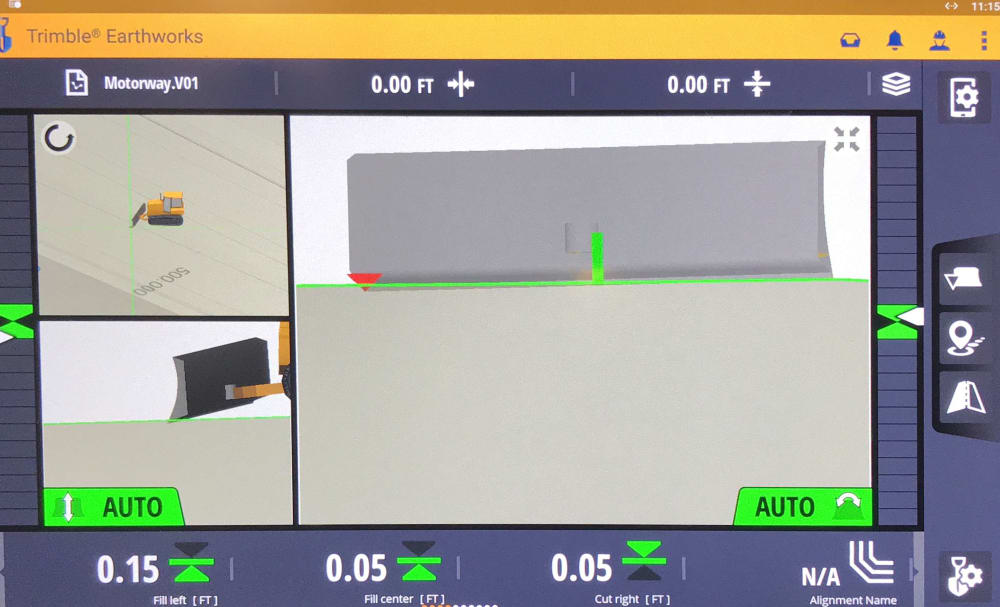 Sensors on the dozer blade provide XYZ position, plus rotation on all 3 axes.
Source: www.engineering.com