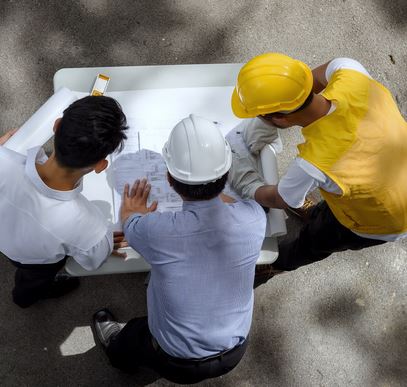 How to Improve Collaboration and Communication Between Construction Teams
10 June 2021
How to Improve Collaboration and Communication Between Construction Teams
Effective collaboration and communication between different teams are key when it comes to construction projects. As a project manager, it is your task to ensure that all your teams work like a well-oiled machine. Problems with communication and collaboration can lead to a lot of issues for your project, including scheduling issues, poor work performance, sunk costs, and wasted time. Your management style must go beyond delegating tasks and organizing processes. You need to build relationships between your workers and give them the means to collaborate in an optimal way.
However, achieving the aforementioned goals is not as easy as it might look. In order to be successful, you need to combine smart coaching skills, strategic thinking, and technology. In this article, we will provide you with some practical advice on how to improve the collaboration and communication between different construction teams that work on the same project.
Ensure Open Communication
One of the fundamentals of enabling good internal communication, no matter the number and size of your teams, is to form open communication lines. All team members need to feel that their opinion is respected, valued, and sought-after. Each individual needs to feel like an important part of the team — as a result, information will go up and down the chain without any interruptions.
Project managers need to stay on top of all details surrounding a project, which means that you must have up-to-date information at all times. Keeping communication open will ensure no information is kept from you, which will prevent issues during all phases of your construction project.
Think Strategically
When organizing the communication and relationships between your teams, keep in mind that construction projects tend to take several years to complete. The people you work with need to be willing and able to work together efficiently for a prolonged period of time. On top of that, construction teams that really stick tend to go on working together for their entire careers.
Make sure your team is composed of professionals who are not in this particular field of work only temporarily. Find people who want to keep working in the field, as they will be more motivated to form strong work bonds, communicate efficiently, and keep on improving themselves.
Build Relationships
The work surrounding construction projects usually does not encourage lots of interaction between people. In fact, many workers are solely focused on their own tasks and only communicate with others when it is necessary. In order to build a strong team that collaborates and communicates efficiently, you need to take your people out of their comfort zone and make them interact with one another.
A great way to achieve that is to organize team-building events. It is not necessary to spend money on dinners, hotels, and such — a simple game of soccer outside of working hours can achieve the same thing. Socializing outside of the usual work environment works wonders in building relationships between co-workers. Going out to a bar or organizing a party will strengthen the bonds between your people and ensure your project goes smoothly.
Enable Your Leaders
Team managers ought to be your right-hand people when it comes to implementing your communication and collaboration strategies. They need to be aware of the goals you are trying to reach and actively help you to achieve them. Meanwhile, you should motivate them to practice what they preach and keep them included in the decision-making processes.
If you and your managerial staff are on the same page, executing the plans on this list will be quicker. Leaders must set an example and be the driving force behind any change in work culture and organization. Of course, you need to be aware of the so-called "informal leaders" among your teams. Sometimes, such individuals perform even better as agents of change.
Make Effective Use of Data
Modern technologies have allowed managers to access all types of different project data and use it to improve their work. When it comes to communication and collaboration, you need to properly use the available data in order to improve both. Task management systems can be especially helpful for keeping different teams up to speed on specific aspects of the project.
Use data to track progress and manage any inefficiencies in your teams' work. Having all teams collaborate using the same datasets will help you with scheduling, optimizing resources, and avoiding any duplicate work.
Use BIM Software Solutions
Perhaps the most effective way to improve collaboration and communication between different construction teams is to utilize BIM tools. Building information modeling (BIM) software started out as a means to generate accurate 3D modeling. However, it has evolved into a full-service suite that can help you with all aspects of managing a construction project.
BIM software allows large teams to seamlessly collaborate on a project in real-time since it uses cloud technology. This way all your workers have access to the same plans, data, and schedule at the same time. Modern BIM solutions have a lot of useful collaboration and communication tools, as well as complex 3D visualizations that can be especially effective when it comes to clash detection, on-site safety measures, and overall risk mitigation.
Conclusion
Even the best construction project manager cannot take on a project entirely by themselves. You need your teams to be motivated, energized, and collaborating in the most optimal way. Communication and teamwork are key to the successful completion of a project, no matter its size and scope. Do not limit yourself to just a person who hands out the tasks. Be a leader and build a team that can go through even the toughest challenges together.
About the Author:
Sofia Jaramillo is an Account Executive for the Pacific Northwest area at Microsol Resources. She was born and raised in Colombia, where she got her Business Administration degree. She moved to New York in 2016 and joined Microsol in 2018 where she has found a new passion within the field of design and construction. In her free time, she likes to practice yoga and run in Central Park.