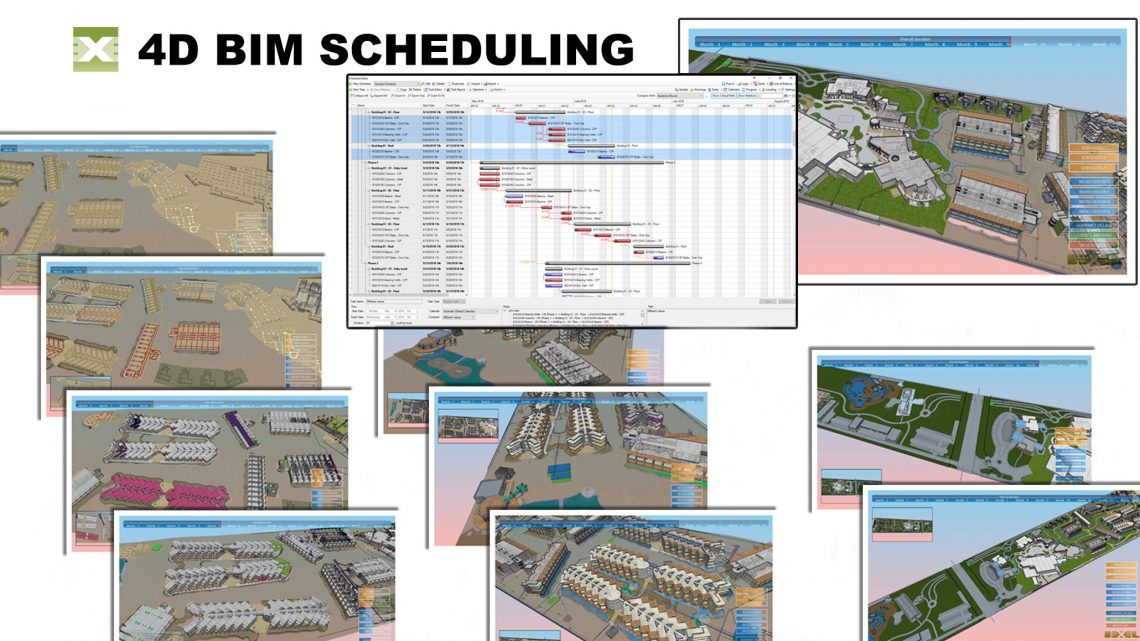 How intelligent scheduling is changing construction management process
22 February 2019
Introduction to Programming BIM 4D
In recent decades, we have witnessed an intense progress of technology and computer applications. This progress is very noticeable in all aspects of the construction industry and especially in the development of BIM software. In a recent market survey with the Virtual Construction Software programming BIM 4D are reported as a huge support tool for all involved in major construction projects: construction managers, prime contractors and their customers.

In the small group of specialized software for programming BIM 4D, BEXEL Manager stands out for its unique features and capabilities directed toward management, programming (BIM 4D), cost estimation (BIM 5D) and even, facilities management (BIM 6D) of construction projects. I will try to briefly introduce its main features related to construction scheduling, which are a real game changer for future programming processes BIM construction.
Benefits of BIM 4D programming
Traditional programming process begins when planners and project managers often create construction schedules containing thousands of tasks to the level of each work item. Sort these tasks, connect and create dependencies and relationships allocation and balance a lot of resources can be extremely challenging and slow, even for more experienced managers project.

The main objective of the program is to improve 4D BIM planning processes and communication between all parties involved, allowing all participants to visually provide the entire process of building a very understandable and natural. Visual real-time simulations revolutionize complete planning processes, leveling traditional Gantt planning a 4D virtual presentation of the whole project implementation on the screen long before you start building.
The obvious and most significant benefits of BIM 4D programming process are:
Increased savings in time and cost, which can be variable, but reaching up to 500% in terms of the time required for program implementation.
Improving coordination and communication with stakeholders and the general quality of the work schedule.
Greater speed in creating offerings and optimizing budgets.
Improved site design and planning security.
Additional benefits that are not expressed through saving time and costs, but also greatly influence and augment the planning and construction process are the 4D visualizations.
Programming processes and estimation based on the model help the entire team to identify and optimize every detail designed. The efficiency and accuracy of visualization created BIM 4D allows experts project to identify and mitigate risk in the initial stages of the project, long before its construction. It also allows planning teams run different scenarios built to generate the best possible solutions while verifying their impact on costs. All schedule changes and variations made the Gantt chart are immediately updated and viewed in 3D view programming.

BIM 4D programming is much more than just visualization 4D
Today, many software solutions are advertised or used incorrectly as "4D BIM software," however, there is a clear and obvious difference between viewing BIM 4D and 4D BIM software programming. The "4D BIM software" in general, can produce virtual construction simulation (visualization of construction process).

However, 4D BIM software programming as BEXEL Manager allows users to view the construction process and also virtually plan (create schedule) construction project. Our programming software BIM 4D allows you to create and change tasks / planned activities, change their duration and predecessor / successor tasks as well as optimize and validate the sequence of these activities, all within the software itself, while almost simultaneously, has updated the display changes in the view of 3D programming software.

The intelligent programming concept BEXEL 4D BIM Manager
On the other hand, the scheduling engine BEXEL Manager implements advanced programming algorithms, specially designed to provide the functionality to create fully automated construction schedules, simplifying manual sequencing unpleasant 4D. That's where the real power of BEXEL Manager.
Unlike other solutions BIM 4D market, where it is necessary to create the schedule activities manually or semi-automatically depending on the elements of the BIM model available, our complete solution BIM 4D-5D-6D uses a visionary concept that allows planners and managers to easily apply their engineering experience.Its engine unique and intelligent programming allows the creation of construction methods and construction activity groups such as planners think and anticipate the processes running on your mind. Similarly, groups can be created different levels of activities of tasks based on the phases of construction, buildings, activities and anticipated elements. The next step is to create logical relationships and dependencies of these groups of activities and methodologies. In the same way most experts are accustomed to the softwares traditional programming, here you can select types of relationships between elements (for example, from end to beginning from start to start, end to end, etc.) and the duration or delay the created relationship.
A brief introduction to BIM 5D and cost management
Additionally, the next logical step in the process construction management BIM is assigned labor, equipment, material resources and costs to tasks and reach the next dimension BIM, ie 5D. Our solution allows multiple custom implement cost classification systems for different versions of costs within the same model, this is feasible in the BIM 5D Cost module named Editor (Editor Cost).

In addition, the user can manage, view and export graphs and reports cost, labor, materials and equipment. Keep track of planned and actual costs, and once construction begins, track and update progress on schedule, and analyze actual versus planned progress, hypothetical scenarios and mitigation strategies.It is very valuable that a user is enabled to handle and manage practically all dimensions BIM (3D, 4D, 5D and 6D) within an integrated software platform.
Automatic generation of 4D BIM schedules based on predefined construction methodologies
In addition, all created methodologies are saved in the software so that the user can store multiple templates to automatically create schedules using pre-defined methodologies and their variations. Once created the methodology of construction, scheduling engine CPM (Critical Path Method) with all its features, is used to find an optimal solution in terms of cost and minimum construction time and the balance of resources, providing fully detailed construction schedules in seconds, even for the most complex projects containing thousands of tasks and respective elements. All methodologies and previously saved templates can be reused for any other similar project,

Visualization and optimization of schedules BIM 4D
BIM 4D initial schedules generated automatically and can be tuned further by the user by placing a specific order of steps and activities with BIM model elements linked in temporal and spatial sense.
The amounts of resources can also be defined and modified for any task or phase subcontractor company. A user can change and improve visual sequences built using custom color schemes for items, tasks and resources. Changes can be made and additional exceptions by implementing custom calendars for tasks and subcontractors.
Management, optimization and classification of a lot of work by any standard model are extremely easy and intuitive programming using built-in filters.Planning teams can also compare visually and within the Gantt chart, different versions of the schedule and planning methodologies directly in the solution, easily switching between different versions cost for any of the scheduling options.

perfect interoperability
Finally, the duration of the entire activity of a task can be changed manually, before finalizing the schedule BIM 4D and video simulation construction. All programs created can be exported from BEXEL Manager to traditional software programming and most commonly used, such as Oracle Primavera or Microsoft Project ™ ™ or Microsoft Excel ™. All activities, durations, links and dependencies of the schedule originally created in BEXEL Manager will be retained and stored in the exported files, enabling seamless interoperability.
Mentioning interoperability, taking into account that the solution also allows the import of schedules traditionally derived from the aforementioned programming tools. As all tasks, duration, links and dependencies created originally explained also they are kept in BEXEL Manager.

Semiautomatic generation BIM 4D simulation based on imported schedule
Unlike most software BIM 4D market, where the process of linking programming tasks imported with the respective elements of the model is mostly done manually, BEXEL Manager uses an intelligent engine for semiautomatic linking elements activities using predefined rules, name / identification of activities and level of hierarchy. With comfortable views of each set of selection of model elements and cross-checking with categories, families, properties of each element, and improved search capabilities based on their properties and other criteria, bind errors are eliminated almost completely.
Once programming is imported, you can make additional adjustments, modifications and verification tasks within the Schedule Editor (Editor Programming) of BEXEL Manager. When all activities are linked, the software generates a video simulation of 4D construction, suitable for real-time review by project stakeholders. The created virtual simulation of 4D construction can also be exported as a video file.

conclusion
Once all stakeholders, mainly planners and project managers embrace the full potential and benefits of smart processes 4D programming, the entire industry will benefit and evolve, leading to a very accessible and tangible future of building BIM, where the 3D parametric design, construction simulations in real time and exchange of information are part of impeccable business every day.
By: Mileta Pejovic, BEXEL Consulting
Once all stakeholders, mainly planners and project managers embrace the full potential and benefits of smart processes 4D programming, the entire industry will benefit and evolve, leading to a very accessible and tangible future of building BIM, where the 3D parametric design, construction simulations in real time and exchange of information are part of impeccable business every day.

By: Mileta Pejovic, BEXEL Consulting
Source : www.bimcommunity.com