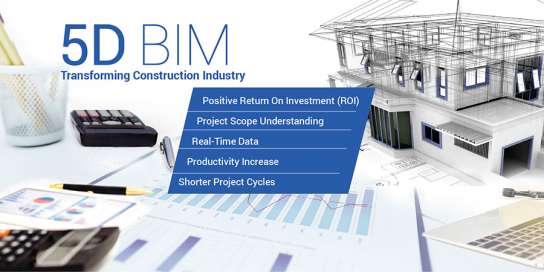 HOW IS 5D BIM TRANSFORMING CONSTRUCTION INDUSTRY
20 November 2018
HOW IS 5D BIM TRANSFORMING CONSTRUCTION INDUSTRY
BIM is currently the making new revelations in the industry, and changing its practices from information sharing to design coordination and from construction management to construction scheduling and cost planning. To general contractors and construction companies, 4D BIM and 5D BIM remain vital functional aspects and utilities of BIM platforms such as Autodesk Revit or BDS.
What is 5D BIM; Definition
5D BIM can essentially be called as the information sharing in full collaboration as in BIM Level 2 for the physical and functional aspect of BIM. While it can also be said to have an additional dimension to the native 4D construction sequencing models – a dimension time along with costs in Common Data Environment (CDE) of BIM.
Cost planning and estimation with 5D BIM modeling involves more project teams of engineers, sub-contractors and stakeholders. It eliminates the concept of working in isolation. The collaborative modeling of Revit BIM platforms also facilitates quick and automatic generation of quantities, accurate design data fetching and BOQs and BOMs when connected with the cost estimation software. It thus opens avenues for the engineers and consultants towards efficient design, timelines and costs.
5D BIM accelerates pre-construction stages
Another major area where 5D BIM has a very profound impact is helping project managers. Estimating accurate quantity takeoffs, measurements, and costs is the most time-consuming process and error-prone task. Up until now, these processes were done manual by calculating the quantity requirements from the blueprints. But with BIM the process has transformed and increased the productivity for contractors as well as quantity surveyors.
5D streamlines the decision making of a building construction project for the owners and chief contractor. They get the ability to see through the changes in CDE of the design models change done by other stakeholders and design teams. The impacts of design changes and its corresponding changes in costs on each model estimates can be envisioned which helps staying on budgets.
Benefits of 5D BIM
A survey by, McKinsey&Company says that, "75% of companies invested in 5D BIM experiences a positive ROI."
5D BIM technology offers savings on time by subtracting paper trails, down on overhead costs, rowers etc. and facilitates shorter project cycles. Consequently, governments across the UK, Finland & Singapore have mandated BIM for all public infrastructure projects.
The Virtual Design and Construction capabilities of BIM provide a better understanding of building construction project horizon. Specific designs, construction simulation, topography based sequencing, and cost estimation and logical phasing brings a more coherent approach in the over project execution.
Whole of the project team develops an understanding of the proposed design by staying on same page throughout the project tenure, assumptions made, and cost factors. The team then can have brief BIM meetings for the scope, cost, and schedule which directly have an impact on the time saving factor.
Also the data that is fed in real-time will continuously update the model accordingly so that the alternative designs can also be explored. It shortens the project design development cycle and drives more efficiency in designing output. The "what-if" scenarios can also be evaluated objectively and any economical solution will never be missed out.
Furthermore, all the project stakeholders can visualize the building design way before construction breaks the ground and transparency stays onboard all the time. The cloud isn't only used to back up your phone.
Future of 5D BIM 
5D BIM, in coming times, will essentially drive the construction industry to new heights. With cloud technology, all the project information will be made accessible to all the team, irrespective of their location and time zones. Construction is soaring and cloud technology is equally popular in the industry as much BIM. About 1/3rd of the construction companies use cloud data and information management and sharing today.
Additionally, there are upcoming technologies like Augmented and Virtual reality transforming to mixed reality where holographic displays of the building design model are seen in layered devices. It will particularly help the building construction project in facility construction, maintenance and operations.
Looking at these disruptions, one thing is sure that 5D BIM is growing and will serve as an important link between designing and construction as well as the designs and operations and maintenance stages. There is no stopping now. Coming times for the construction industry are transitional and there will be several profound impacts on the growth as well as efficiency in practices.
Source: https://www.wooloo.org