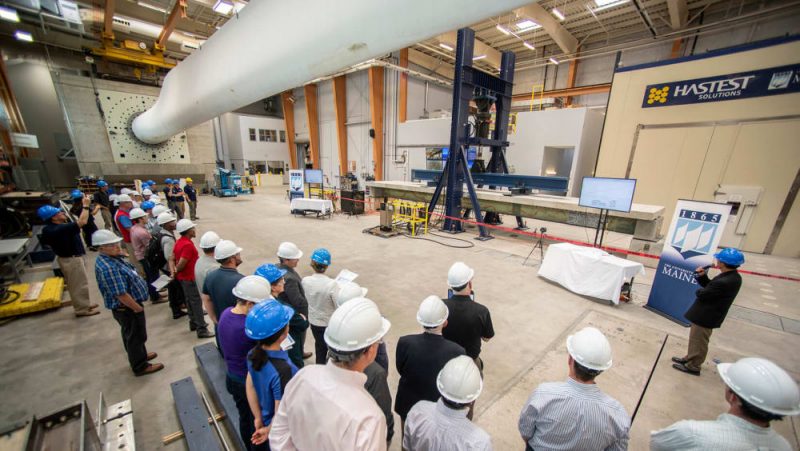 New Bridge Composite Twice as Strong as Concrete and Steel
10 September 2018
New Bridge Composite Twice as Strong as Concrete and Steel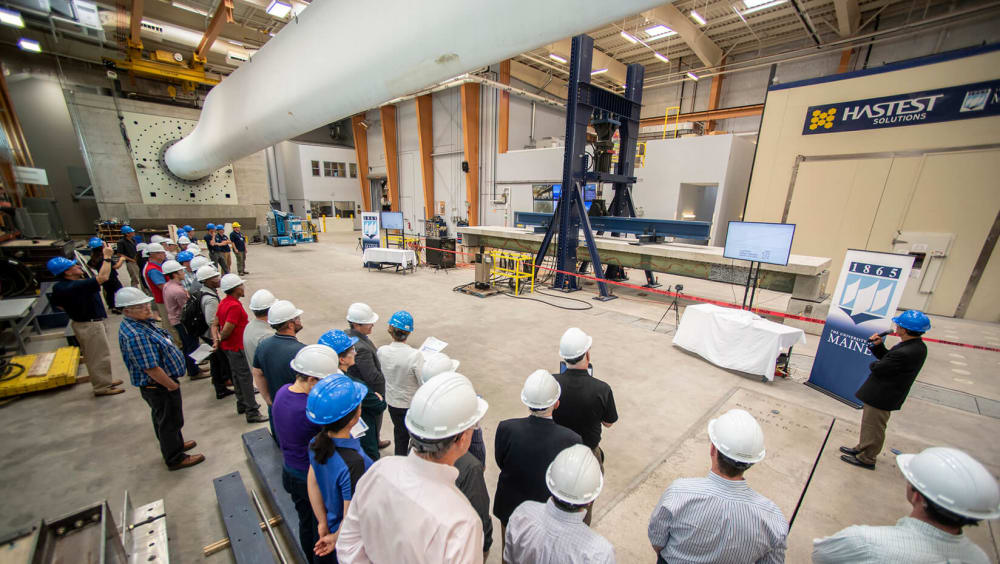 The University of Maine's Advanced Structures and Composites Center tests the strength of their new composite girders at a ceremony on July 12th. (Image courtesy of University of Maine.)
Researchers at the University of Maine have developed a lightweight composite bridge that is twice as strong as steel and concrete bridge girders.
In a mid-July demonstration, the university's Advanced Structures and Composites Center tested a 21-foot span of the composite with computer-controlled hydraulic equipment that can simulate the weight of highway traffic. The test was necessary to ensure that the bridge passed American Association of State Highway and Transportation Officials (AASHTO) Bridge Design Specifications, and it succeeded with flying colours.
"Today's bridge test exceeded our expectations," said Habib Dagher, executive director of the Center. "The composite bridge withstood forces equivalent to more than 80 cars stacked on top of each other, and more than 5 times the HL 93 design load specified by AASHTO. The composite bridge girder exceeded twice the collapse strength of steel and concrete girders."
The design is made up of lightweight composite FRP girders connected to precast concrete panels, a system which the team says can allow a bridge to be built in as little as three days. The composite is an undisclosed blend that involves thermoset resin, glass fiber and carbon fiber, which means that the girders are relatively light (approximately 1-2 tons for 40- to 80-foot spans). The lighter weight makes the bridge easier to ship, as does the "stackable" shape of the girders. To Dagher and his team, the ease of transport was an important consideration: "Our design philosophy has been to look at the entire lifecycle."
The test came a little over a month after the US Department of Transportation announced that they would grant UMaine up to $14.2 million to lead a push to improve the durability of New England's transportation infrastructure. And it looks like the bridge will stand up to the challenge. According to the team, the girders are designed to last for up to 100 years, and the panels are relatively easy to replace. "The unique connection system we've developed allows you to come in 50 years later, essentially pull the deck out and then put the new deck on without having to jackhammer the concrete deck like you typically would," Dagher said.
The Center is also responsible for the famous Bridge-In-A-Backpack, a lightweight FRP composite structure to reinforce arch bridges. And Advanced Infrastructure Technologies, the company that licensed Bridge-in-a-Backpack, is looking forward to licencing the new composite after another round of trials in August.
"As the commercialization partner of the Center's composite arch bridge system, today's event allowed us to showcase this new technology with potential investors as well as DOT partners and executives," said Brit Svoboda, chairman and CEO of AIT Bridges, on the day of the trial. "We're ready to go to market."
Source : www.engineering.com