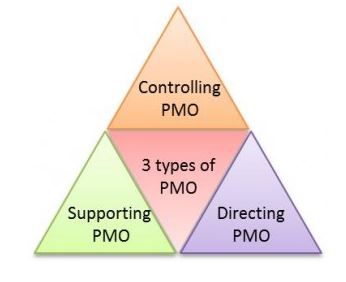 Project Management Offices according to PMBOK® Guide – Sixth Edition
28 April 2020
Project Management Offices according to PMBOK® Guide – Sixth Edition
The PMBOK Guide defines project management offices as an organizational structure that standardizes the project-related governance processes and facilitates the sharing of resources, methodologies, tools, and techniques.
Simply put, PMOs are in place to help project teams succeed by providing some best practices and unified standards that help to comply with the organization's needs and by helping to direct and flow project work in a variety of ways that can benefit both the project team and the organization.
Generally speaking, there are three types of PMOs that we most often see. These include supporting, controlling, and directing project management offices.
In the case of supporting project management offices, we see a relatively low level of control at the PMO level; rather, the project teams remain largely autonomous in nature. The project management office in these sorts of organizations supplies best practices, training, information, data, and templates that can help the project team to succeed, and also acts as a repository for project information, which is important, given the fact that our project team will disband once we've met our objective successfully or have decided to move on from the project for other reasons.
A controlling project management office, on the other hand, institutes a moderate level of control over the project teams that work through it. This includes required compliance to methodologies, frameworks, or governance styles that might exist within the organization rather than simply providing templates that serve as an option but still leaves management within those boundaries to the project manager.
Third is a directing project management office, which assumes a higher level of control than the other two within each project team. There's a high degree of direct control over each project's management.
This could include directly assigning project managers to each individual project as well as controlling the resources available to those project managers and setting the tone and direction for how those project managers should manage their work. Regardless of which type of PMO most closely fits the one you might be familiar with in your organization, project management offices work to facilitate project success.
They may assign project managers to projects directly and certainly serve as a resource for project teams. Among the various functions that project management offices offer include maintaining standards and practices for project teams as well as curating tools and templates that can be used by them, archiving documents are artifacts for future use by either this project team or others in the organization, as well as developing key performance indicators and metrics that can be used to understand project performance and control.
In addition, project management offices can define governance policies for each project team as well as coordinate overall resources within the organization. Project management offices may also establish deliverables, especially if they serve as the project sponsor.
Finally, measuring the aggregate performance of projects is also an important role of PMOs, helping to rank how well projects are doing and to understand where additional attention by the organization might be necessary, either in the form of better leadership or an increased level of resources to help that project team meet their goals.
One thing project management offices don't do is manage projects directly. That, of course, is the purview of the project manager, who focuses on completing specified objectives, while the project management office is more concerned with major changes in scope and direction that may take place as the result of shifting priorities, different changes in the product environment and so forth.
From a control perspective, the project manager has some level of a direct authority over the resources that have been assigned to their project, while the project management office focuses on dispensation and optimization of these resources between a variety of project teams.
As far as management goes, the project manager focuses on managing their project constraints: time, cost, quality, resources, scope, and so forth, while the project management office, on the other hand, focuses on creating the tools and methodologies that can be used to help project managers achieve those goals, establishing the standards that might be in place for the organization, understanding risks that impact the project and the organization at large, and the interdependencies that we may see between various projects.