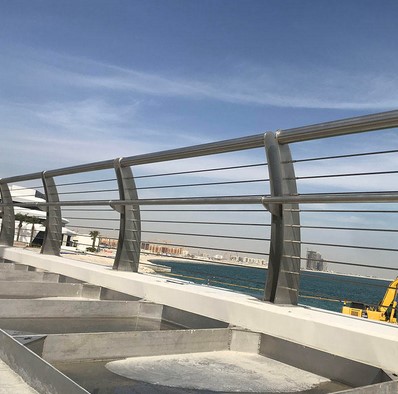 The Common Types of Bridge Railings
18 December 2021
The Common Types of Bridge Railings
A bridge's railing depends on various factors such as location, material, and purpose. The railing adds safety for pedestrians, aesthetics, and a custom touch to bridge construction.
Guardrails for bridges are located prominently to make the public stay alert and safe during their drive through bridges. These railings not only keep the traffic within the boundaries but also improve the bridge aesthetics.
Types of Bridge Railings
The common types of railings used for bridges are:
Steel bridge railings
W-Beam railings
Thrie-Beam railings
Concrete beam railings
1. Steel Bridge Railings
Steel railings come in different cross-sections and designs. The most common type of steel bridge rail is a tubular rail system. These types of railings can be built alone or integrated into the concrete curb or on a low barrier wall.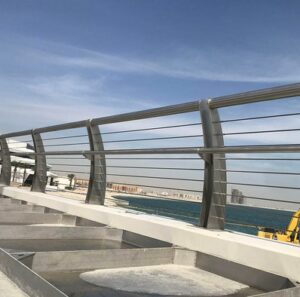 For bridges with low-vehicular traffic and for pedestrians, architectural steel railings are commonly used. Architecturally important bridges do not have a bulky and heavy design. They incorporate decorative railings without compromising pedestrian safety.
2. W-Beam Bridge Railings
W-Beam railings are used for bridges with less traffic. As shown in the figure-2, W-Beam railings have a two-wave design and are attached to steel posts or truss girders.
W-Beam is a simple steel railing system that can be designed for higher strength.
3. Thrie Beam Bridge Railings
Thrie beams are high-strength guard rail systems designed for highways, especially on sharp curves and slopes.
Thrie-Beam features 'three' waves across its section versus 'two' on W-Beam and therefore provides greater rigidity, which in turn means lower deflections and higher containment that is more suitable for heavier vehicle protection.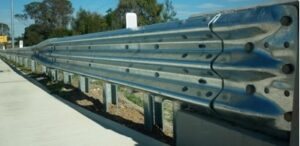 Thrie beam rail systems can absorb the impact of out-of-control vehicles and guide them to a safer stop. These rail systems provide excellent performance and versatility.
It has an added corrugation that gives an advantage for use in transitions to bridges and along high volume, high speed roadways.
4. Concrete Bridge Railings
Concrete is the most common material used for bridge construction. Concrete railings are attached to the bridge's deck slab to create a strong vehicle barrier.
A concrete railing attaches to the bridge's deck slab and creates a powerful vehicular barrier. These sturdy railings are ideal for high traffic roadways or areas where run-off the road accidents are frequent.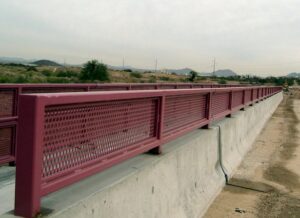 The initial construction cost of concrete railings is high. Huge concrete railings in some situations can impede an open road view. In such situations, concrete railings with high strength can be combined with a tubular railing system.
The dimensions and construction of bridge railings are dependent on the construction budget, the bridge deck material, and the mandated state specifications.