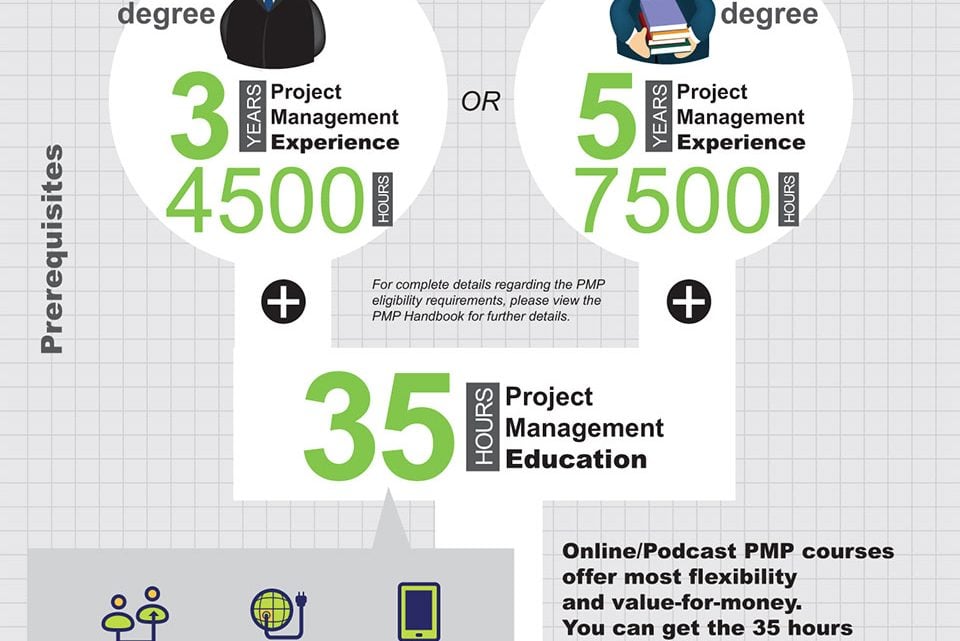 The PMP Certification Process Overview
6 January 2019
The PMP Certification Process Overview
The PMP® Certification Process and the requirements for becoming a PMP® are quite complicated if you haven't taken any PMI exams (like CAPM® or PMI-ACP®) before. Reading the PMP® Handbook alone will not help you much as you will still have some questions unanswered.
A) Fulfil PMP® credential requirements:
Must have enough project management experience as stipulated by PMI

For secondary degree holders (e.g. high school diploma, associate's degree): need to have at least5 years of project management experience and a minimum of 7,500 hours leading and directing projects
For four-year degree holders (e.g. bachelor's degree): need to have at least 3 years of project management experience and a minimum of 4,500 hours leading and directing projects

Have the required 35 Hours of Project Management Education

Any education on project management offered by a formal education provider taken at any time before the PMP® exam will satisfy this requirement, e.g. a course in your degree curriculum about project management with a length of more than 35 hours;
The course on project management is NOT required to be based on PMBOK® Guide. BUT taking a course based on PMBOK® Guide will help you also in your PMP® preparation (try to find a PMP® exam prep course provided by a PMI Registered Education Provider (R.E.P.)that is accredited by PMI, more on that later).
What is project management experience as recognized by PMI?
NO need to carry the job title 'project manager' but must be assigned the responsibility of managing and taking care of projects.
The experience is about project management (as defined in the PMBOK® Guide) and not just carrying out project works managed by others.
Must have experience in all the lifecycle phases of projects (i.e. 5 process groups of the project management lifecycle, including initiating, planning, directing, monitoring & controlling and closing the project). PMI does not require you to have experience with the 5 process groups from every project. That means you can just involve in initiating in Project A, closing in Project B and all 3 others in Project C.
You may consider the Certified Associate in Project Management Certification (CAPM®) offered by the Project Management Institute (PMI) if you have not accumulated the required project management experience. The CAPM® is also based on the PMBOK® Guide (more on factual memorization) but there are no experience requirements.
B) Apply for the PMP® certification online:
The most convenient way to apply for the PMP® exam is through the online system at http://certification.pmi.org.
Sign up for a user account first. After which you can log in and begin filling in the PMP® application form. The information entered on the PMP® application form will be stored on PMI's web server for up to 90 days. You will get an email reminder from PMI a few days before that period will expire and all the information be deleted.
Read the article on common mistakes of PMP® Application and how you can avoid them.
[Optional but highly recommended] Become a member of PMI. Though it is not required to become a paying member of PMI to take the PMP® exam, being a member allow you to enjoy discounted PMP® and other certification fees, a free downloadable copy of PMBOK® Guide and many online PMP® exam reference books. The PMI annual membership fee is US$129 plus US$10 of first-time registration fee. The money you will save by becoming a member will be much more than the cost of the membership fee for the first year.
After you have completed the online application form, submit it and wait for the approval to sit for the PMP® exam from PMI (in the form of an email).
You can now pay the PMP® certification fee online (US$405 for members and US$555 for non-members). Remember to pay $139 for the membership fee first if you haven't before paying the PMP® certification fee, you will get an instant saving of US$16.
[Selected randomly by PMI] If you are so fortunate to be chosen for an audit by PMI, you will get a notification email immediately after you have paid the exam fee. Act as fast as possible to send them all the required documents (e.g. academic certificates, 35 hours of project management education certificate, proof of working experience, etc.). Otherwise, you will be given an email authorizing you to schedule your PMP® exam at Prometric website.
C) Schedule, attempt and pass the PMP® exam:
Though you are given a 1-year validity period during which you can schedule the PMP® exam at any time, it is advisable to schedule the PMP® Exam at Prometric website as soon as possible. This arrangement has two benefits:

Exam places are limited, the faster to schedule, the more likely you can schedule the exam at a date and time you prefer;
Having scheduled the exam will give you a tangible target for you to prepare consistently for the PMP® exam.

Prepare and study well for the PMP® exam by making use of the PMBOK® Guide guide, a PMP® study guide as well as numerous PMP® practice exams.
On the date of the exam, arrive at the exam centre early. Relax and enjoy the exam.
You will be notified of the exam result immediately after the exam. The center staff will give you a printed proof of your exam achievement. If it is a pass, congratulations, you are immediately a PMP®! If, unfortunately, you fail the first try, make plans to retake the exam. You can have up to 2 more chances to take the PMP® exam within the 1-year validity period (though you must pay the re-exam fee separately).
D) Obtain PMP® PDU for re-certification
The PMP® certificate will be mailed to you within 6-8 weeks.
The first benefit of becoming a PMP® is that you can request a PMP® lapel pin free of charge (details will be emailed to you several days after you have passed).
If you pass the PMP® exam, you are immediately a PMP® and your 3-year PDU re-certification cycle begins. Collect at least 60 PDUs per 3-year cycle to allow you to renew your PMP® credential.
You can make use of PMI's online system to report PDUs to PMI. When you have accumulated enough PDUs, PMI will send you a renewal notice. The renewal fee is US$60 for members and US$150 for non-members.
What's Next?
If you fulfil the PMP® requirements and are eligible for the PMP® exam, you should next try to understand how much time, money and efforts are needed to get your PMP® title. This is the second most pressing question any PMP® aspirants would ask.