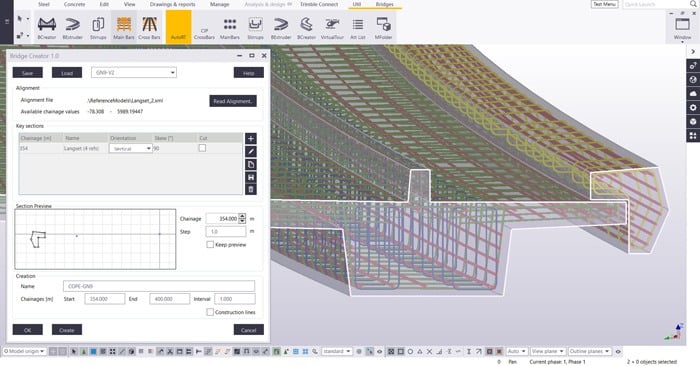 Trimble adds bridge design functionality to Tekla Structures
10 February 2019
New Tekla Bridge Creator extension covers the complete bridge design workflow
Trimble has launched Tekla Bridge Creator, a new extension for Tekla Structures that supports the complete bridge design workflow from design geometry to constructible modelling and detailing.
Trimble says the new software provides a solution to common problems: importing a road alignment directly from road design software; creating one or more key sections that define the bridge deck or even abutments; and then modelling and detailing the reinforcing bars.
By adding the Bridge Creator extension, Tekla Structures can create and utilise Bridge Information Models (BrIM) from early stages of design (0- Strategy, 1 – Brief, 2 – Concept) through fabrication-ready (Stage 4 – Detailed Design) to constructible models (Stage 5 – Build & Commission).
Hannu Suojanen, project engineer for Bridges, WSP Finland, who participated in testing the software, commented: "Bridge Creator is intelligent and certainly the most efficient tool for the whole bridge design workflow, which no other software provider has to offer. It automatically imports the road alignment and helps create bridge geometry easily. Even when facing complex deck geometries, the extension creates the deck with impressive accuracy.
"Tekla Structures is already a sound choice for bridge detailing. Adding the new Bridge Creator extension with the existing Concrete Bridge Reinforcement tool for complex geometries make Trimble's Tekla solution the most advanced on the market. Trimble is creating value for the overall bridge design, construction and operations workflow, increasing the efficiency and quality in bridge design."
The Bridge Creator extension version 1.0 can be downloaded from the Tekla Warehouse in March. The extension is available for Tekla Structures customers with a software maintenance agreement.