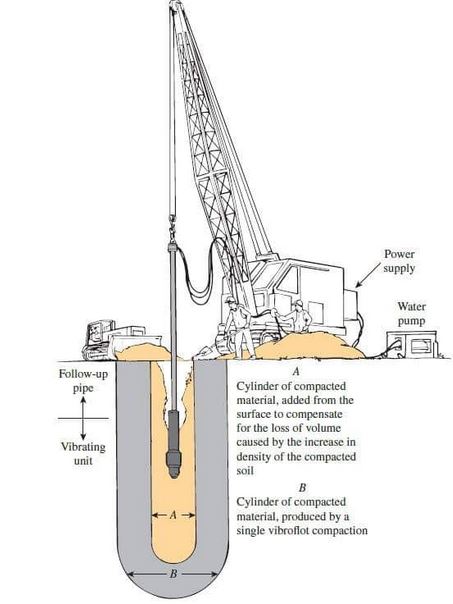 What is Vibroflotation Ground Improvement Method?
9 October 2021
What is Vibroflotation Ground Improvement Method?
Vibroflotation is a technique developed in Germany in the 1930s for in situ densification of thick layers of loose granular soil deposits. Vibroflotation was first used in the United States about 10 years later. The process involves the use of a vibroflot (called the vibrating unit).
The device is about 2 m in length. This vibrating unit has an eccentric weight inside it and can develop a centrifugal force.
The weight enables the unit to vibrate horizontally. Openings at the bottom and top of the unit are for water jets. The vibrating unit is attached to a follow-up pipe. The figure below shows the vibroflotation equipment necessary for compaction in the field.
The entire compaction process can be divided into four steps:
Step 1. The jet at the bottom of the vibroflot is turned on, and the vibroflot is lowered into the ground.
Step 2. The water jet creates a quick condition in the soil, which allows the vibrating unit to sink.
Step 3. Granular material is poured into the top of the hole. The water from the lower jet is transferred to the jet at the top of the vibrating unit. This water carries the granular material down the hole.
Step 4. The vibrating unit is gradually raised in about 0.3 m lifts and is held vibrating for about 30 seconds at a time. This process compacts the soil to the desired unit weight.