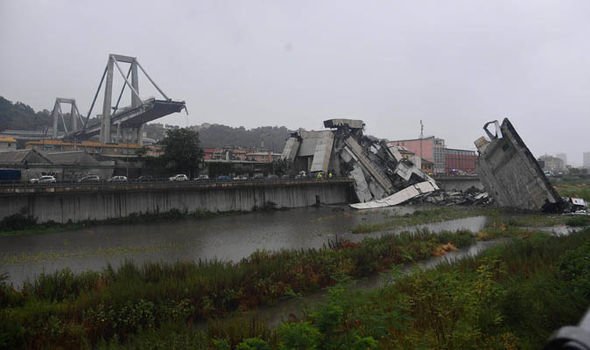 What we know about Genoa bridge that collapsed
15 August 2018
What we know about Genoa bridge that collapsed
The Monrandi bridge in Genoa, Italy is part of the A10 motorway which runs runs over a railway line, riverbed and industrial area.
The road which is close to the French boarder connects the city of Genoa to Savona and Ventimiglia.
Both sides of the highway fell due to severe weather and torrential rain sending cars plummeting to the ground.
It is currently unclear why a section of the Morandi Bridge collapsed. But here's what do we know about structure:
It's a highway bridge: The section of the A10 highway affected crosses over several roads, railway tracks, shopping centers, homes and the Polcevera river.
It's a major thoroughfare: It links central Genoa with Genoa airport and towns along the coast to the west of the city.
It's long (and tall): The cable-stayed bridge had a total length of 1.1 kilometers and is 100 meters tall at its highest point.
It's 50 years old: The bridge, also known as the Polcevera Viaduct, was designed by Italian civil engineer Riccardo Morandi and completed in 1968.
The bridge was undergoing maintenance when it collapsed
The bridge that collapsed near Genoa, Italy, was undergoing maintenance, the company in charge of Italian highways, Autostrade, said in a statement on Tuesday.
The Morandi Bridge "dates back to the 1960s" and "maintenance works were underway to consolidate it," Autostrade said
The statement goes on to say that "a bridge-crane was installed to allow maintenance works to be carried out" adding that, "the work and status of the viaduct were subject to constant observation and supervision" by their Genoa division.
The company added: "The causes for the collapse will be the subject of an in-depth analysis as soon as it is possible to safely access the site."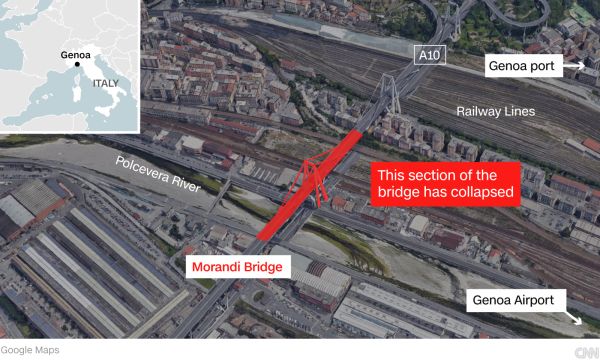 Dramatic pictures show the collapsed bridge as rescue workers search the debris.
Emergency services having been working around the clock at the scene.
Italian firefighters said cars and trucks are trapped among the rubble after falling 50 meters to the ground from the Monrandi bridge.