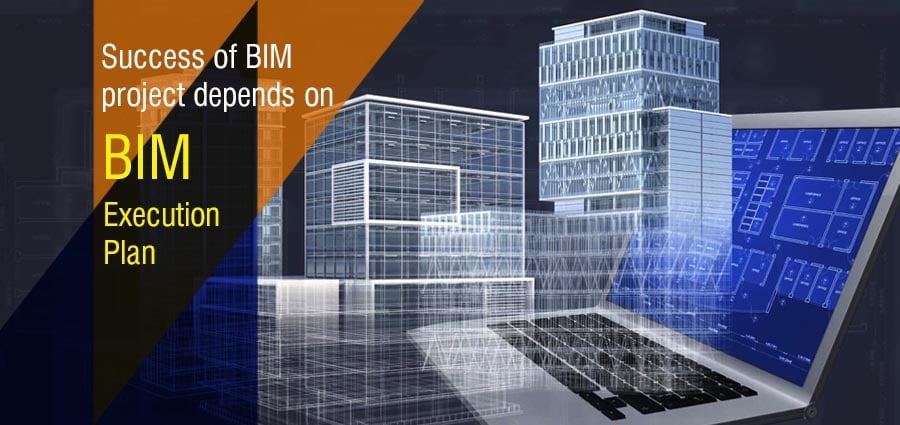 How BIM Execution Plan is Beneficial for BIM Projects?
29 March 2019
How BIM Execution Plan is Beneficial for BIM Projects?
Building construction tools make everyone visualize hard hats, hammers and heavy machinery. It is a pity that no one thinks of technology, 3D modeling, expert BIM consultants etc., which ideally should be the case. Think of a construction project with no or minimal clashes, improved collaboration and coordination, reduced risk and increased cost savings that Revit software brought to the final delivery. That is BIM Implementation. But if all this was about BIM, what is BIM execution plan?
BIM execution plan, also known as BEP or BxP, is very critical for any new construction project and all three architecture, structural and MEP disciplines. The development of such a plan, for facilitating the management of information in any BIM project, is set out in PAS 1192-2:2013 as a direct response to the Employer's Information Requirements (EIR).
Benefits of using a BIM execution plan for building construction projects: 
Instant and accurate communication among teams from the inception of any construction project is what BIM execution plans encourage. It helps all involved to manage responsibilities and expectations. It also ensures clear communication is available to all stakeholders across the construction project.
Every construction project tends to differ from the previous one. It may have different requirements in and around the needs of internal standards, regulations and the overall project. Because the BIM execution plan is in place and active, the project team is required to collaborate in real time across construction project phases. This prevents unnecessary silos among project tasks and warrants that adequate attention is paid to a particular project, irrespective of the requirement or standards in place.
Squeezed time schedules is one of the biggest challenge any and every construction project faces. However; a finely developed BEP with complete focus on project benefits, ensures that none of those involved in the project are overloaded with work, causing damaging delays to the project deliverables. Also BEP sees to it that only the most important details are worked upon and made available in the plan. It further helps in maintaining the schedule of deliverables across the project.
BIM execution plan's value addition in terms of transparency is commendable. They are conveniently available and accessible to all team members from the very start of the process. From contractors to project owners and many more, everyone has direct access to BIM implementation data including file formats, details and dimensions of the model.
BEP is all about staying focused on the project at hand, and not including every possible standard that exists. It empowers the team to communicate and collaborate better from the very beginning of the project. It promises strong execution and successful finish, pleasing project owners and investors. Executing this plan keeps items on the "to do list" moving which further assures project completion on time and within budgets.
BIM execution plan can be considered to be the rule book for a construction project, where rules in the book tend to change on project to project basis. BEP will enlist the roles and responsibilities of all involved in a construction project. The BEP will also showcase project milestones to the regulations to be adhered to, and the details involving the supply chain, procedures, technology to be used, and a whole lot more.
A contract once is awarded, warrants secondary BEP to be created by the prospective supplier, which focuses on the approach, capability, capacity and competence to meet the EIR in general terms. It details the project deliverables stipulated by the contract and the information exchange requirements, such as the CIC BIM Protocol (a supplementary legal agreement that is incorporated into construction and professional services contracts via a simple amendment), detailed in a BIM protocol.
BEP is created pre-contract & post-contract, so how are they different?
Once the contract is awarded, the winning supplier is required to submit a further BIM Execution plan, which is mainly focused on supply chain capabilities. MIDP or master delivery plan is also required to be submitted at the time of project information preparation. It includes details as to who is responsible for preparing the information and which all protocols and procedures will be utilized to develop the information.
The information to be prepared and included is based on a series of individual task information delivery plans (TIDP) that shows who is responsible for each information deliverable.
With multiple suppliers in a single contract, who is responsible for BEP?
Usually in scenarios where there is more than one supplier in a construction project, there is one main BIM Execution Plan that comprises of the responsibility for its production set out in appointment documents. Subsequent BEPs from the suppliers appointed later, dovetail with the existing main BIM execution plan.
Building execution plan, details working procedure
Every single procedure from how will BIM volumes be managed and maintained to what file name conventions will be adopted, and what construction tolerances are set and what attribute data is required; successful BEP encompasses everything.
Next is to determine what software will be used, what data formats will be used for exchange and what other data management systems will be brought into play. To the extent that in order to avoid potential ambiguity, a common approach to annotation, abbreviations and symbols is charted out. And all this leads to stronger executions, better timelines and happier project owners.
Every construction is different and requires a different BIM Execution Plan; but by properly implementing a BEP, your project has a far greater chance of being successful.
Source: www.bimcommunity.com