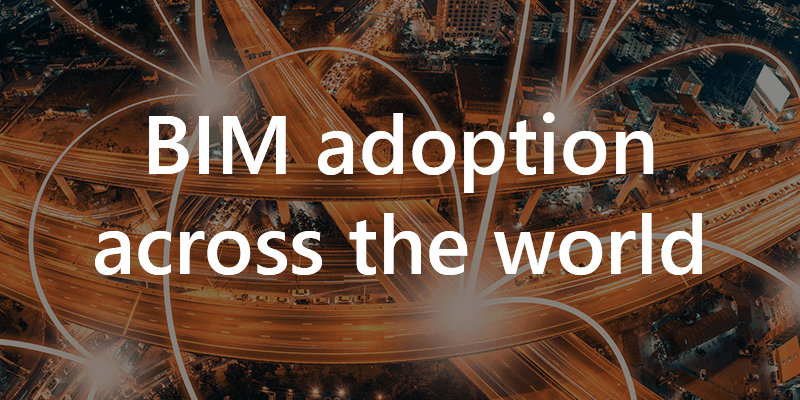 Bim across the world
29 March 2019
Bim across the world
Overview
Building Information Modeling (BIM) brings many benefits to the construction industry due to which it is largely accepted worldwide and adopted by many countries. In 1986, the term BIM came into existence, and since then it is transforming the construction industry. Countries that are majorly using BIM Modeling have a rich site in the infrastructure phase which in turn helps to bring improvements in productivity and cost-savings to all the AEC industry.
Countries who have adopted BIM
United Kingdom
The UK aims to enhance the mindset practice of all the designers, contractors and engineers to obtain new work and growth opportunities. BIM gets mandated in the UK since April 2016 where every construction and the entire government project are held on BIM Level 2. According to the National BIM Report 2018 NBS, After BIM mandatory 20% of industry have started adopting it successfully and attained a 12% increase since 2017. BIM is implemented prevalently everywhere in all the projects.
United States
BIM implemented in the United States since the early 1970s but being the early adopter, it didn't gain the United States any advantages and instead the process of using BIM has slowed down.  United States Government has still not thought of making BIM mandatory. The US General Services Administration (GSA) prepared 3D and 4D BIM Program way back in 2003. This program got BIM adoption mandated for all the Public Buildings Service Projects. Wisconsin was the first state from the United States who has implemented BIM for public works with a budget of $5 million. Gradually BIM adoption is increasing its awareness in the United States and has positively impacted on the AEC industry. United States holds 72% of BIM adoption by the construction Companies.
Singapore
BIM is identified as the core element for Singapore to become the smartest nation Construction, and Real Estate Network, or CORENET, the Building & Construction Authority have implemented the use of BIM e-submission in the construction industry, making it mandatory in 2015 for all the projects greater than 5000 Sq. Mts. In recent years, the government of Singapore has showcased productivity in the construction industry due to which BIM adoption has been seen as strategic actions. The BCA came up with BIM collaboration roadmap throughout virtual design and construction which facilities the use of BIM for Facility Management and Smart Nation.
France
In 2014, The French government developed BIM standards for infrastructure projects along with using BIM to make 5, 00,000 houses by 2017. The government had allocated Euro 20 million to digitalize the building industry due to which in the nearer future BIM will be mandatory in public procurement. For the construction industry in France, the government has taken the initiative as Digital Transition Plan which aimed at achieving sustainability and reduces costs, since after this in 2017 BIM gets mandated in France.
Germany
Around 90% of owners are demanding to use BIM and laid its emphasis on the commercial and the residential buildings. The German government still relies on the conventional method used by the AEC industry which has not fully accepted BIM adoption and for which in 2015 government announced Digital Building Platform plan to be developed.  It is believed that by 2020 BIM will be mandatory for public infrastructure projects.
China
In 2001, BIM implementation in China had been in the discussion by the Ministry of Construction, Ministry of Housing and Urban-rural Development. According to a survey conducted, it was concluded that less than 15% of companies were using BIM. MOHURD in its 12th Five-Year Plan proposed a plan for improvisation work in the construction industry and said that BIM is not mandating to use. National standard of BIM practices has begun and approved by the Ministry of Science and Technology of China. By the end of 2020, BIM will be used effectively more by construction firms. In 2009, Hong Kong Building Information Modeling (HKBIM) was incorporated. Many government authorities have started focusing on UK Level 2 Standards and give training for the same.
Scandinavia
Norway, Denmark, Finland, and Sweden have been the early adopters of BIM technologies. Finland had implemented BIM technology since 2002 and by 2007 Finland mandated that all the design software must be verified with Industry Foundation Class (IFC) Certification. IFC is a file format that can be used for shared models and can work independently on any piece of design software.
In Denmark, BIM mandated its state clients, Palace and Properties Agency, Defence Construction Service to adopt BIM practices while several private firms are working on Research and Development for BIM adoption practices.
Sweden ranks high in BIM adoption practices, and best practices guides for the same have already been published even in the absence of government-led guidelines. The government also has taken initiatives to facilitate its implementation and public organization to mandate the use of BIM in 2015.
The civil state client Statsbygg and Norwegian Homebuilders Association have promoted the use of BIM. All the civil state client projects used IFC formats and BIM for constructing the buildings during 2010. SINTEF has conducted thorough research on BIM to improve the construction and operations of the buildings.
Australia
Many private sectors, as well as business owners, have started adopting BIM at faster rates. For all the public areas, a standard like PAS1192-2 is used for the adoption of BIM due to lack of skill and work in isolation makes it crumble for the adoption of BIM in Australia. No proper methodology is developed here to measure the level of maturity. Support and Guidance are asked from the United States to initiate BIM adoption practices well in Australia.
Europe
BIM implementation is showing good progress in Europe. BIM adoption is successfully done by Companies, Academics, Professionals, and government institutions. Standard BIM practices and digitalization in the industry is a must and can bring huge success for Europe's overall construction industry. Europe BIM task group in 2016 was established to develop a digital construction sector and has brought progressive impacts on adoption of BIM in the country.
Canada
BIM adoption in Canada is still at the existence stage with around 31% of the Canadian industry using BIM. No federal government has mandated BIM in the country yet but in the near future can increase the adoption of the use of BIM. Canada's infrastructure industry can change its recent conditions by mandating BIM and its standards. In 2004, building SMART Canada started increasing the activities of using BIM for all construction projects. By 2010 Council by Institute of BIM in Canada (IBC) was formed to lead and facilitate the use of BIM in the construction industry.
India
The second largest industry in India is AECO (Architecture, Engineering, Construction, and operations). Gradually with all its efforts are focusing its shift to BIM. It can be very cost-saving technology and effective for India, but we are still on the design implementation level. Private Sector has started using BIM standards for Nagpur rail project which had used the 5D BIM technology to take it to another level of the project in the whole construction industry. BIM technologies such as BIM Co-ordination and Clash Detection processes would be used to enhance the construction quality, reduction in cost and greater efficiency in the project. With a growing economy and understanding of BIM in the construction industry, the entire practitioners involved can effectively adopt BIM.
Conclusion
Every country must include effective use of BIM in their construction projects for achieving many benefits such as reduced costs, time and efficiency. Every part of the world have readily accepted BIM standards and started its practices. It helps to replace the conventional methods of construction industry worldwide. Many updates in BIM technology can help them communicate their design more realistic and better approach that can even work on the sustainability of energy consumption in the near future.
Source: www.bimcommunity.com