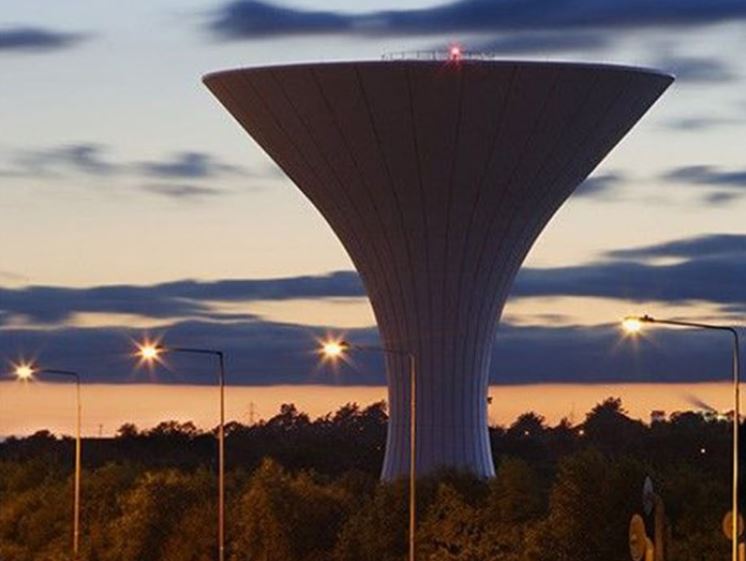 Water Towers Types
5 June 2021
Water Towers Types
Water towers are used as a local source of water at times of peak demand where it would not be economical to increase the size of the supply pipeline and add a booster pump installation.
In undu-lating terrain ground-level storage can provide the pressure needed but in areas of flat topography the storage must be elevated. Many shapes and design features are possible but the designer should aim to produce a structure that meets the requirements of both water supply and planning authorities, bearing in mind that it will become a landmark in the community which it serves.
Ancillary equipment including pipework, valves, ladders, instrumentation and booster pumps, if required, can all be hidden in the cylindrical shaft.
The optimum depth/diameter ratios should be determined taking into account the most efficient shape and the needs of the distribution system. It is usually advisable to avoid large pressure fluctuations in distribution that may be caused by draw down or filling in excessively deep tanks.
The main types of water towers are:
1- Concrete water towers:
Concrete water towers are built with capacities up to about 5000 m3. They are usually circular in plan although rectangular concrete towers have been built. The diameter of circular water towers is not usually sufficient to warrant the use of prestressing since cracks can be controlled by applying normal water retaining concrete criteria.
Concrete water towers allow some scope for architectural statement so that the result can be regarded as a visual asset.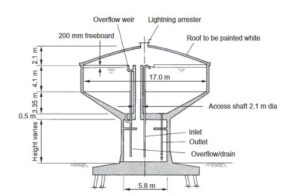 Reinforced concrete water tower
Rectangular water towers are designed as small monolithic service reservoirs with the floor slab supported on some form of open column and beam framework or on a hollow vertical shaft, it self founded on a base slab, piled if necessary.
Wind and seismic loads should be taken into account in the design of tank, supports and foundations. Circular concrete water towers allow more scope for different styling from a simple cylinder with a flat base to a sophisticated form such as the hyperbolic-paraboloid of the 39 m high Sillogue tower near Dublin airport built in 2006.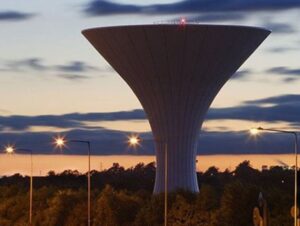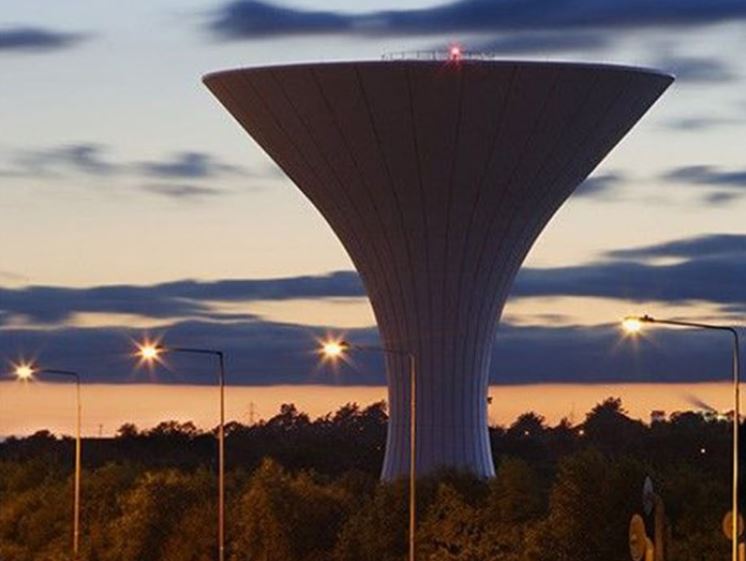 Sillogue Reservoir
In this case the vase shape resembles an inverted version of the nearby control tower. The Intze type water tower (Rajagopalan, 1990) is designed so that bending moments are as near zero as possible at all sections.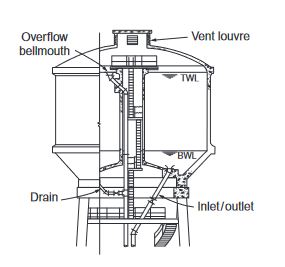 Reinforced concrete water tower (Intze type)
2- Welded Steel Water Towers

Relatively small welded tanks have been used for over 100 years for industry and rail transport.These were usually small radius cylinders supported on a framework of steel columns with braces or ties.
Welded steel water towers of capacities up to 15 000 m3are now available and have been widely used all over the world, particularly in North America, the Middle East and the Far East.
These are now constructed of butt welded steel plate in several configurations: spheroids or ellipsoids on tubular columns belled out at the base; cylindrical or spherical shapes with conical bases and supported on wide steel columns which help resist seismic loads and provide space for plant rooms or offices or on a reinforced concrete frame.
Whilst the forms available for welded steel water towers do not offer much scope for architectural treatment, the coatings provide an opportunity for decoration and can be attractive.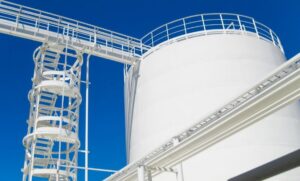 Welded Steel Water Towers
3- Segmental Plate Tanks

The type of steel or GRP panel construction can also be used for elevated storage. However, it is unlikely that segmental plate tanks would be used for anything other than industrial or emergency water storage since their poor visual appearance is exaggerated by height.
Where they are used, the bases are placed on a series of beams which are supported on a framework of braced columns.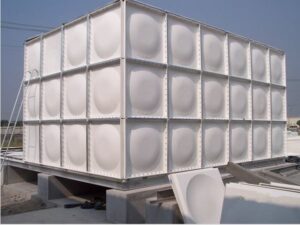 GRP Water Storage Tanks