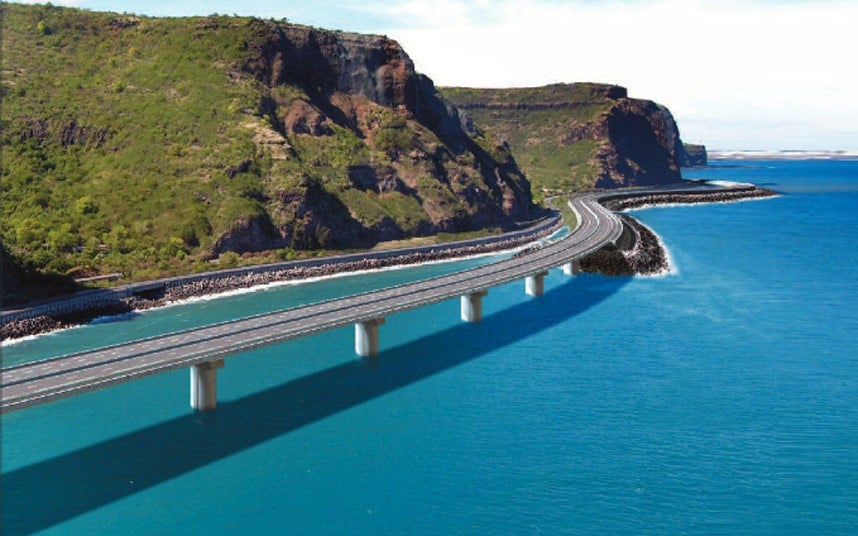 New coastal highway route for Reunion
29 October 2017
New coastal highway route for Reunion
Description
Work on a new €1.7 billion coastal road is underway around France's Reunion Island

This new 12.3km highway (Route du Littoral) will have three lanes in each direction when it is complete in 2018.
The new offshore highway connects Saint Denis, the administrative capital of La Réunion, with La Possession.
This is a significant project and involves the use of a large fleet of heavy machinery.
Manitowoc, Grove and Potain cranes are working together to help build the new coastal road around Reunion Island.
In all large 16 cranes of various types are being used on the island, which is located to the east of Madagascar.
Meanwhile equipment from Enerpac is playing a key role in constructing a viaduct.
One of the most complex aspects of the work is the construction of the 5.4km viaduct on columns rising out from the Indian Ocean.
This is being built so that it will be able to withstand  144km/h hurricane winds as well as waves of up to 10m in height.
The project is being carried out by French consortium Bouygues Travaux Publics, VINCI Construction Grands Projets, Dodin Campenon Bernard and Demathieu Bard Construction.
Once complete, this will be the most expensive road/km funded by France.
The crane fleet in use on the project comprises two Potain MD 485B M20s, two MDT 368 As, one MD 560 B, a Potain k5-50C, a Manitowoc 12000E-1 crawler crane, seven
Grove all-terrain cranes and two Grove rough-terrain cranes. Installation of the Potain cranes was completed in September of 2015, including setting up and erecting the jibs.
The 16 cranes were supplied by contractors Vinci Construction Grands Projets and Bouygues TP which own some of the units and Grues Levages Investissements (GLI) which also provided cranes for this high-profile project on rental contracts.
GLI is Manitowoc's official French dealer for Reunion Island, Mayotte and Mauritius and has invested heavily in supplying the cranes for this project.