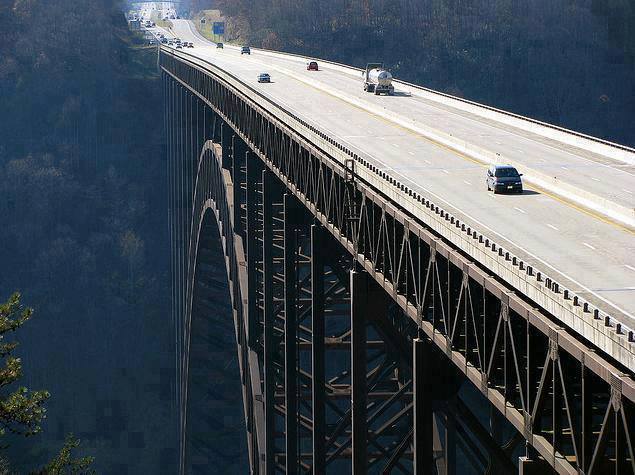 New River Gorge Bridge, Fayetteville, West Virginia, United States
19 October 2017
A monumental steel arch built on a grand scale not often seen in bridge construction, the New River Gorge bridge in the U.S. state of West Virginia opened in 1977 as the highest and longest arch bridge in the world (at that time) with a height of 267 metres and a main span of 518 metres.
Built at a cost of 37 million dollars, the bridge was designed by the large engineering firm of Michael Baker, Jr. and constructed by the legendary American Bridge Company.
Abandoned coal mine shafts just above the massive arch foundations on both sides of the gorge were filled with grout to prevent unwanted ground settlement.
The decision to use a special type of steel that develops a brown coloured rust coating that naturally protects the steel saves the West Virginia Department of Transportation a million dollars as they don't need to paint the bridge and gives the span a natural, rugged look that blends into the tree-filled surroundings.
[metaslider id=772]