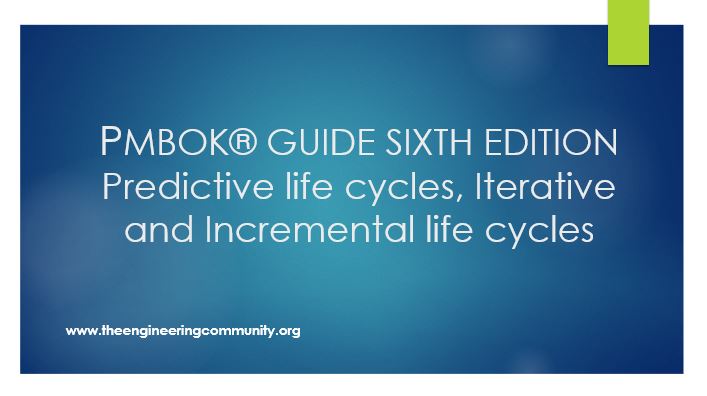 PMBOK® GUIDE SIXTH EDITION Predictive life cycles, Iterative and Incremental life cycles
6 March 2021
PMBOK® GUIDE SIXTH EDITION
Predictive life cycles, Iterative and Incremental life cycles
Predictive Life Cycles
Predictive life cycles (also known as fully plan-driven) are ones in which the project scope, and the time and cost required to deliver that scope, are determined as early in the project life cycle as practically possible. These projects proceed through a series of sequential or overlapping phases,with each phase generally focusing on a subset of project activities and project management processes.
The work performed in each phase is usually different in nature from that in the preceding and subsequent phases; therefore, the makeup and skills required of the project team may vary from phase to phase.
Iterative and Incremental Life Cycles
Iterative and incremental life cycles are ones in which project phases (also called iterations) intentionally repeat one or more project activities as the project team's understanding of the product increases.
Iterations develop the product through a series of repeated cycles, while increments successively add to the functionality of the product. These life cycles develop the product both iteratively and incrementally.
Product life cycle.The series of phases that represent the evolution of a product, from concept through delivery, growth, maturity, and to retirement.
Project life cycle.The series of phases that a project passes through from its initiation to its closure.