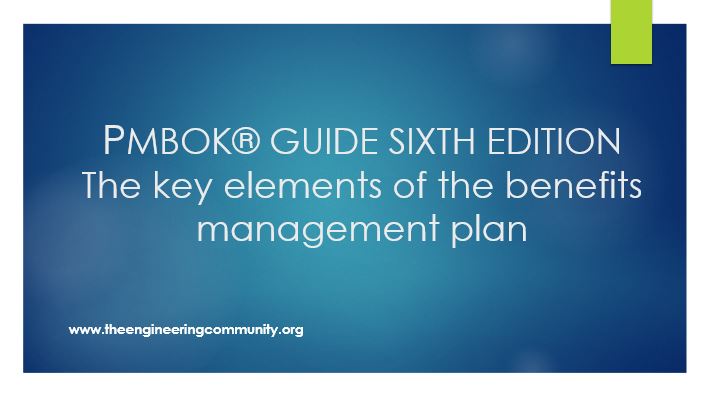 PMBOK® GUIDE SIXTH EDITION The key elements of the benefits management plan
6 March 2021
PMBOK® GUIDE SIXTH EDITION
The key elements of the benefits management plan
The benefits management plan describes key elements of the benefits and may include, but is not
limited to, documenting:
Target benefits (e.g., the expected tangible and intangible value to be gained by the
implementation of the project; financial value is expressed as net present value).
Strategic alignment (e.g., how well the project benefits align to the business strategies of the
organization).
 Time frame for realizing benefits (e.g., benefits by phase, short-term, long-term, and ongoing.
 Benefits owner (e.g., the accountable person to monitor, record, and report realized benefits
throughout the time frame established in the plan).
 Metrics (e.g., the measures to be used to show benefits realized, direct measures, and
indirect measures.)
Assumptions (e.g., factors expected to be in place or to be in evidence); and
Risks (e.g., risks for realization of benefits).