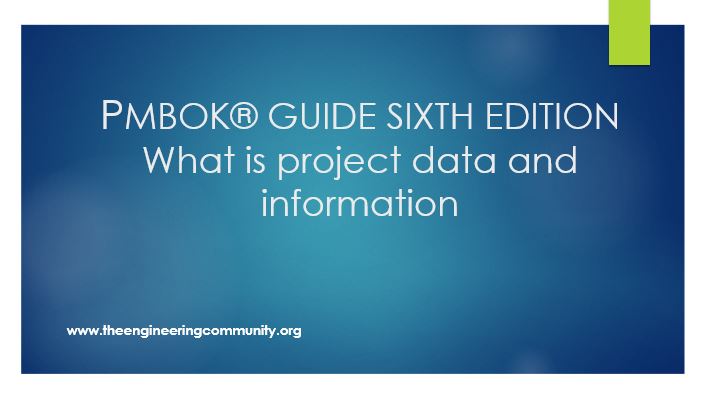 PMBOK® GUIDE SIXTH EDITION What is project data and information?
6 March 2021
PMBOK® GUIDE SIXTH EDITION What is project data and information?
Throughout the life cycle of a project, a significant amount of data is collected, analyzed, and transformed Project data are collected as a result of various processes and are shared within the project team.
The collected data are analyzed in context, aggregated, and transformed to become project information during various processes. Information is communicated verbally or stored and distributed in various formats as reports.
Project data are regularly collected and analyzed throughout the project life cycle. The following
definitions identify key terminology regarding project data and information:
Work performance data. The raw observations and measurements identified during activities performed to carry out the project work. Examples include reported percent of work physically completed, quality and technical performance measures, start and finish dates of schedule activities, number of change requests, number of defects, actual costs, actual durations, etc.Project data are usually recorded in a Project Management Information System (PMIS) and in project documents.
Work performance information. The performance data collected from various controlling processes, analyzed in context, and integrated based on relationships across areas. Examples of performance information are status of deliverables, implementation status for change requests, and forecast estimates to complete.
Work performance reports. The physical or electronic representation of work performance information compiled in project documents, which is intended to generate decisions or raise issues, actions, or awareness. Examples include status reports, memos, justifications, information notes, electronic dashboards, recommendations, and updates.
Work performance analysis is a required activity, but not a source of project data.