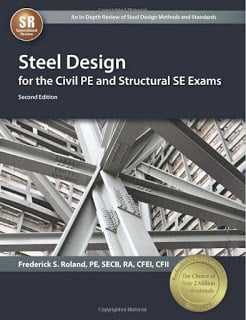 Steel Design for the Civil PE and Structural SE Exams
17 November 2017
Steel Design for the Civil PE and Structural SE Exams
My purpose in writing this book is twofold. First, to help practicing engineers who are
preparing for the civil structural Principles and Practice of Engineering (PE) exam or
the structural engineering (SE) exam, both administered by the National Council
of Examiners for Engineering and Surveying (NCEES).
Second, to help engineering students who are learning about structural steel.
This book, then, is designed to be useful as a guide for studying on your own
or as a text for an introductory or intermediate class in steel design.
The main purpose of this book, Steel Design for the Civil PE and Structural SE
Exams,is to be a study reference for engineers and students who are preparing
to take either the civil structural PE exam or the structural SE exam, both of
which are given by the National Council of Examiners for Engineering and
Surveying (NCEES).
These exams—even the breadth section of the civil PE exam, which is more
general in its scope—often contain structural questions that go beyond the basics.
If you want to be prepared for all questions in steel design, this book will give you
the thorough review you need.
However, anyone who wants to learn more about the most current steel design  methods can benefit from this book. It can serve as a guide for those who are studying on their own or as a text in a formal course.
After a quick review of some basics in the early chapters, each chapter in turn  explores in greater detail a different aspect of steel design. Among the topics covered are :
• loads and load combinations
• analysis methods
• design  :  of beams, columns, and plate girders
:  of members under combined stresses
:  of composite members
• bolted and welded connections
[su_button url="https://drive.google.com/open?id=1XXdFjgUlq1uBFMhvDDozXGq0hjWnnk-2″ size="7″ center="yes"]Download Link [/su_button]