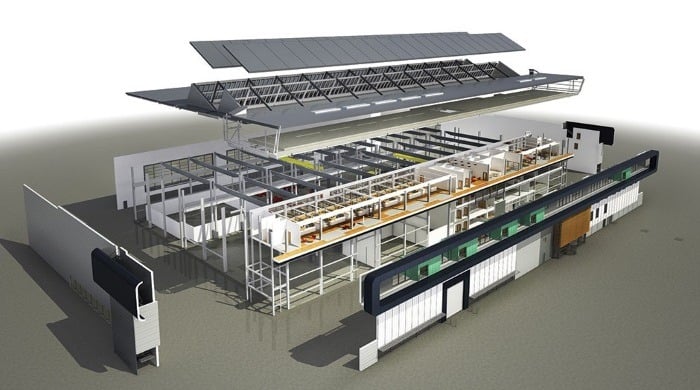 The Best Apps For Architects
17 November 2018
The Best Apps For Architects
The best apps for architects can be hard to find when you are working on sketches, with project owners, or managing a team. That is why we looked for the best apps for architects so you would not have to.
On our search for the top apps for architects, we found a wide range of apps: architecture calculators, architecture prioritization apps, architecture drawing apps, and more.
Here is a list of the top apps for architects that we found:
Best Apps For Architects
For Architecture Calculators
Concept App by Fast + Epp
Stemming from clients' desire to assess project feasibility before putting pencil to paper, structural engineers at Fast + Epphave developed CONCEPT – a free iPhone app that allows architects and engineers to calculate member depths and browse project photos for structural expressions.
CONCEPT's depth calculator uses typical span-to-depth ratios for common steel, concrete, and wood members. The user simply indicates if the information they're inputting is a roof or floor, with the internal calculator determining an approximate depth. Additional information is provided to qualify the load assumptions and tributary areas.
Users are able to share search and calculation results by emailing them to co-workers and clients for discussion prior to the first design charrette.
Paul Fast, the Partner of Fast + Epp states "Concept is a free app because we wanted to make it readily accessible to as many architects and designers as possible. We're confident this is going to be a really useful tool.
For Floor Plans
Magicplan
Magicplan is the post-PC floor plan creation technology for everyone, and it is particularly helpful for architects. Its augmented reality features let you create a floor plan simply by taking pictures. With Magicplan, you can easily generate complete work estimates, furnish a home, or plan your next DIY project.
For Drafting
Scala Architectural And Engineering Scale
Scala Architectural and Engineering Scale provides a new way to measure printed drawings on the go and at your desk. It includes standard imperial architectural, metric architectural, and engineering scales in a handy app. You can also create custom variable scales in case your drawings aren't to a known scale.
For Architecture Prioritization
Priority Matrix
Priority Matrix is a prioritization app that helps architect firms manage resources, increase visibility, and track progress of all of their projects.
Within Priority Matrix, you can use the tool to:
Visualize your team's workload by using the platform to view how work is distributed across your team. This means that you can tell which members of your team have the most on their plate, and which members you can assign more work to.
Determine which items are of high priority so you and your team can focus on what matters most.
Keep track of tasks by inputting tasks into Priority Matrix along with notes, screenshots, and a due date. In addition, you can delegate tasks through the app, and communicate any questions or comments under the task to keep things organized.
Generate Simple Reports like visual Gantt charts, or a report to show how many tasks were completed yesterday by specific members of your team.
Store files, including those large CAD files so everything is in one place.
Keep clients in the loop, using the read-only feature to send project owners project updates; you can even send them over your Gantt-chart.
For Architecture Jobs and Recruitment
Design & Construct
Even though Design & Construct is not an app, we felt it was necessary to include it because it should be a tool on your list to meet your recruiting needs.
Design & Construct is a leading Australian-based recruitment agency, providing a specialized approach to recruitment in the Architecture and Construction industry.
By working with a specialist recruiter, you can be sure to know about the best opportunities as they rise. A recruiter has the technical insights into Australia's architecture jobs market, meaning they know what employers are looking for. Whether it's architecture, interior design, landscape design, or urban planning roles, specialists will have the contacts.
As their company states, "Tailored recruitment is at the heart of Design & Construct, and the key reason why 95% of clients return to us and 97% are happy to refer us to their most trusted industry contacts."
For File Sharing
FileCloud
FileCloud is a file sharing, sync and mobile access solution. FileCloud has many capabilities, including:
File Remote Access and Sharing which allows businesses to create their own, branded file sharing, sync, and mobile access solution for their employees, customers and partners.
File Sync, allowing for effortless file synchronization across users computers, smart phones and tablets, so everyone can work together anywhere from any device.
Endpoint Backup and DLP, creating secure backup and Data Leak Prevention (monitor, prevent and fix) across all your user's devices (Computers, Mobile Phones/Tablets).
In addition, FileCloud offers deployment flexibility where users can self-host on their premise, host in the cloud, or create a hybrid solution.
For Presentation
GRAPHISOFT BIMx
GRAPHISOFT BIMx is an award-winning communication and presentation app.
BIMx features virtual reality (VR) functionality. This enhanced functionality provides architectural and interior design firms an immersive way to share their projects. BIMx with Google CardboardTM viewer allows users to navigate through an ARCHICAD model in virtual 3D with a simple turn of the head.
For Creating 3-D Models
Shapr3D
Shapr3D is the world's first professional 3D modeling tool designed specifically for iPad Pro.
Shapr3D is the only truly mobile CAD app. It offers you a quick but precise way to create 3D models from scratch. You can easily create 2D sketches and turn them into 3D models using various tools.
The program is mostly used by engineers, industrial designers, product designers, 3D hobbyists, and architects.
Famous users include Patrick Jouin (one of France's most acclaimed designers), Rodrigo Otazu (who designs jewelery for Madonna, Bruno Mars, Lady Gaga and Swarowksi), and Claas Kuhnen (industrial design professor at Wayne State University).
Architecture Sketching Apps
Archisketch
Archisketch is a scale-aware sketching program ideal for architects, interior and landscape designers, product designers, design students, or anyone working with design on an iPad. Inspired by the tradition of sketching on a tracing pad, Archisketch brings sketching and the early stages of a design process into the modern era on an iPad.
Archisketch helps architects and designers visualize, capture, and explore their ideas using layers, symbols, colors, dimension guidelines, 2D grids, isometric and axonometric 3D grids, and even smart one and two-point perspectives for 3D. When finished, drawings can be printed to scale directly from the iPad up to A1 size, or exported to PDF, which can be included in a CAD application, or even uploaded to the Photos App or the Adobe Creative Cloud.
SmartDraw
With SmartDraw, you get the power of CAD software without the CAD hassles.
SmartDraw gives you powerful tools and a broad selection of architectural templates to help you plan your next office, building or home project.
First, you choose a template and add symbols from the thousands included. You can draw your plan using any scale selected from the standard architectural, civil engineering, mechanical engineering, and metric scale, or you can even define your own custom scale.
In the program, you can import DXF or Visio files, add annotation layers, print to scale, change sizing by just typing in dimensions, and more.
For Experience Tracking Apps
My AXP
Reporting hours for the Architectural Experience Program™ (AXP™) has never been easier, thanks to NCARB's My AXP mobile app! Licensure candidates can log hours, submit experience reports to supervisors, review their progress, and more. And it is available for free on Apple and Android devices.
For Home Remodeling and Design
Houzz
Houzz is a platform for home remodeling and design, providing people with everything they need to improve their homes from start to finish. From decorating a small room to building a custom home and everything in between, Houzz connects millions of homeowners, home design enthusiasts, and home improvement professionals across the country and around the world.
With the largest residential design database in the world and a vibrant community empowered by technology, Houzz is the easiest way for people to find inspiration, get advice, buy products and hire the professionals they need to help turn their ideas into reality.
The Houzz app is reimagining the home shopping experience, with unique features that are changing the way people shop for and design their homes, including:
View in my room lets app users virtually place and see over 9 million products from the Houzz Shop in their own homes before they buy
Sketch makes it easy for homeowners and home professionals to communicate ideas and collaborate directly on any of the more than 14 million photos on Houzz, or images from their own library and around the web, by adding measurements, notes, stickers, Houzz Shop products, and more. Additionally, the tool can be used to create mood boards and floor plans. Sketch allows for real-time collaboration, where multiple people can simultaneously annotate the same photo.
Visual Match is a visual recognition tool that makes it easy for people to discover and buy on Houzz the types of products and materials that inspire them in photos. Available for desktop and in the Houzz app for iPhone, iPad, and Android, Visual Match applies deep learning technology to scan the more than 14 million photos on Houzz to identify furniture and decor in living spaces and surface visually similar inventory from the Houzz Shop.
Plaans
Plaans is a documentation tool for architects, engineers, surveyors, facility managers, interior designers, and many more.
The app provides a wide range of features to support the whole documentation process – from photos, voice memos, and notes, to measurements and sketches. It will always remember, where and from what direction you took a photo and at what exact position you took a note or recorded a voice memo.
Additionally, Plaans exports your data in a well-organized file and folder structure to make sure nothing gets lost and you can access your data fast and easy. For efficient teamwork, you can compile the documentation data as a ZIP file within Plaans and send it by e-mail. With that being said, Plaans automatically generates interactive plans you can view in any internet browser and easily deploy them for colleagues and clients for subsequent processing.
For Stress Management
Stop, Breathe, and Think
The architecture industry is a stressful industry to be in at times. The good thing about living in a world full of apps is that there are companies who have created apps to help you take some time and relax.
Stop, Breathe,and Think is great because it generates meditations that you can do after plugging in how you feel into the app (for example, stressed out, angry, excited). The meditations are short enough that you can pull in a quick one during your lunch, or at the end of your work day.
For travel
Trip Advisor
Trying to plan a vacation to de-stress? Trying to find a hotel to stay at when you have to check out a site? Trip advisor will take away the stress that comes from searching.
With Trip Advisor, not only can you read reviews for hotels, restaurants, and attractions, but Trip Advisor will compare prices of hotels that you can stay at when you are away, saving you a lot of clicks.
Expedia
Like Trip Advisor, if you are planning on going on a vacation or a business trip, Expedia will save you a ton of clicks so that you can find the least expensive airfare, hotels, car rentals and more when flying to your destination. This way, you will spend less time to make your arrangements and spend less of your hard earned money when you travel.
For Architecture Fashion
Warby Parker
If you spend a lot of time outdoors or on the field, you know that you always need the right pair of shades in order to keep your eyes safe from the rays. Just because you are working, does not mean you cannot be hip on the field.
Warby Parker sells prescription eyeglasses and sunglasses starting at $95 ($175 for prescription sunglasses), which you can order online, in store, or over the phone (888.492.7297, 9a.m.–9p.m. ET).
The great thing about Warby Parker is that they allow you try on sunglasses before you buy them with their home try onsystem where you select five frames to test out for five days and then they ship them to you for free! They also offer a 30-day no-questions-asked return or exchange policy for all their eyewear — so there is no pressure.
Another great thing about Warby Parker is that they accept flexible spending account (FSA) dollars affiliated with major credit cards, or you can apply for reimbursement if you have an out-of-network benefit included in your insurance plan.
Used in conjunction, these apps will save you time (and money) and resources in order to get everything done efficiently and hopefully make you and your team's job a little easier.
Written by ANDY LI – 3D architectural renderings, Animation and multimedia Product Manager in Fancy Digital Technology Co., Ltd.