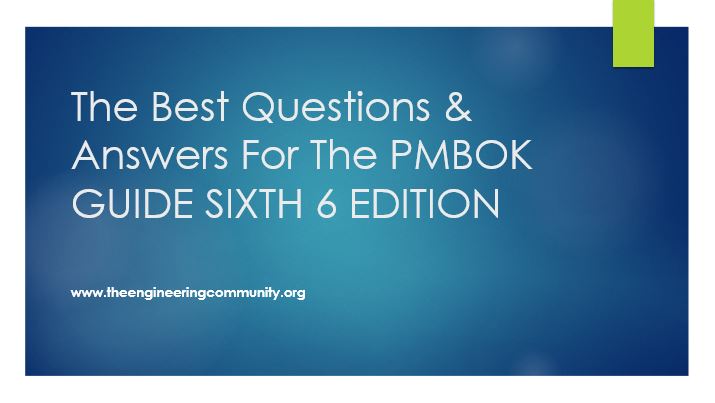 The Best Questions & Answers For The PMBOK GUIDE SIXTH 6 EDITION
6 March 2021
The Best Questions & Answers For The PMBOK GUIDE SIXTH 6 EDITION
To whom who prepare him self for taking PMP exam based on the new PMBOK V6, we offer to you
more than 360 primum questions. These questions have been collected from several sources and will
be given to you free of charge. Due to the scarcity of resources currently, we hope that these
questions will satisfy you and help you to pass the test from the first time.
Table of Content
Section 3: The Role of the Project Manager
Section 4: Project Integration Management
Section 5: Project Scope Management
Section 6: Project Schedule Management
Section 7: Project Cost Management
Section 8: Project Quality Management
Section 9: Project Resource Management
Section 10: Project Communications Management
Section 11: Project Risk Management
Section 12: Project Procurement Management
Section 13: Project Stakeholder Management
Appendix X3 Agile, Iterative, Adaptive, and Hybrid Project Environments
Appendix X4 Summary of Key Concepts for Knowledge Areas
Appendix X5 Summary of Tailoring Considerations for Knowledge Areas