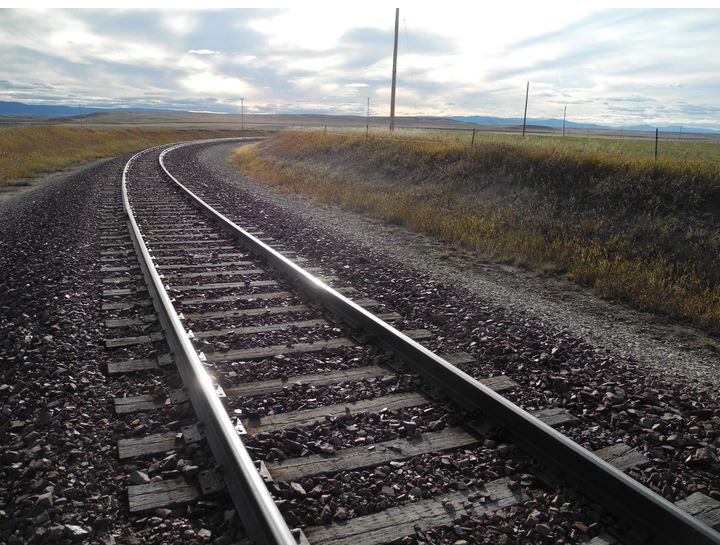 The Main Materials Of Ties Used in Railways
16 May 2021
The Main Materials Of Ties Used in Railways
The purpose of the tie is to cushion and transmit the load of the train to the ballast section as well as to maintain gage.
Wood and even steel ties provide resiliency and absorption of some impact through the tie itself.  Concrete ties require pads between the rail base and tie to provide a cushioning effect.
Ties are typically made of one of four materials:
Timber
Concrete
Steel
Alternative materials
1. Timber Ties
It is recommended that all timber ties be pressure-treated with preservatives to protect from insect and fungal attack.  Hardwood ties are the predominate favorites for track and switch ties.
Bridge ties are often sawn from the softwood species.  Hardwood ties are designated as either track or switch ties.
Factors of first importance in the design and use of ties include durability and resistance to crushing and abrasion. These depend, in turn, upon the type of wood, adequate seasoning, treatment with chemical preservatives, and protection against mechanical damage. Hardwood ties provide longer life and are less susceptible to mechanical damage.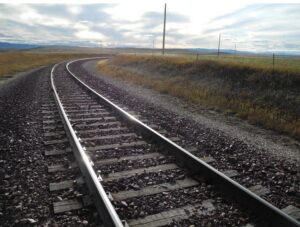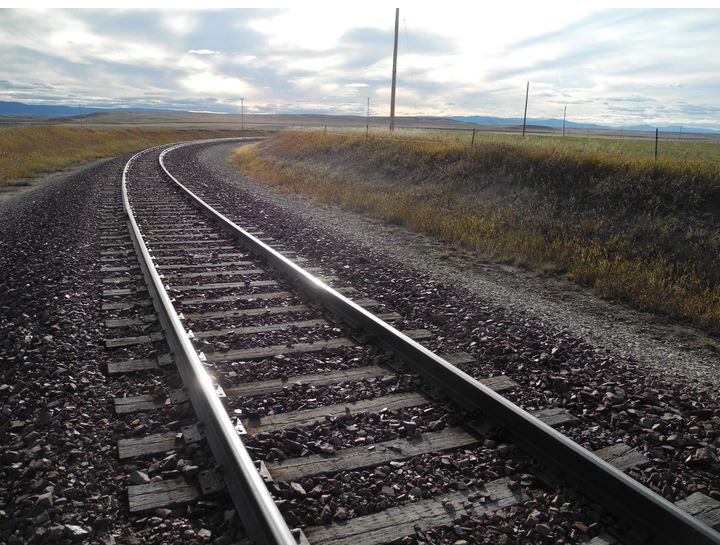 Hardwood Track Ties
2. Concrete Ties
Concrete ties  are rapidly gaining acceptance for heavy haul mainline use, (both track and turnouts), as well as for curvature greater than 2°. They can be supplied as crossties (i.e. track ties) or as switch ties. They are made of pre-stressed concrete containing reinforcing steel wires. The concrete crosstie weighs about 600 lbs. vs. the 200 lb. timber track tie.
The concrete tie utilizes a specialized pad between the base of the rail and the plate to cushion and absorb the load, as well as to better fasten the rail to the tie. Failure to use this pad will cause the impact load to be transmitted directly to
the ballast section, which may cause rail and track surface defects to develop quickly.
An insulator is installed between the edge of the rail base and the shoulder of the plate to isolate the tie (electrically). An insulator clip is also placed between the contact point of the elastic fastener used to secure the rail to the tie and the contact point on the base of the rail.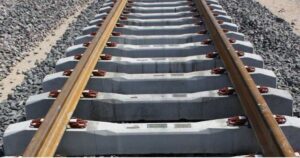 Concrete Track Ties
3. Steel Ties
Steel ties are often relegated to specialized plant locations or areas not favorable to the use of either timber or concrete, such as tunnels with limited headway clearance. They have also been utilized in heavy curvature prone to gage widening. However, they have not gained wide acceptance due to problems associated with shunting of signal current flow to ground.
Some lighter models have also experienced problems with fatigue cracking.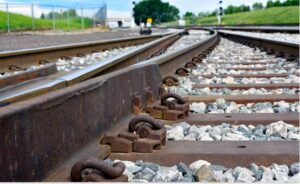 Steel Track Ties
4. Alternative Material Ties
Significant research has been done on a number of alternative materials used for ties. These include ties with constituent components including ground up rubber tires, glued reconstituted ties and plastic milk cartons.
Appropriate polymers are added to these materials to produce a tie meeting the required criteria. To date, there have been only test demonstrations of these materials or installations in light tonnage transit properties. It remains to be seen whether any of these materials will provide a viable alternative to the present forms of ties that have gained popularity in use.