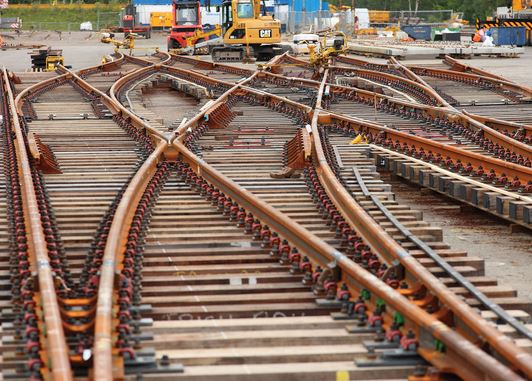 Railway Switch and Crossings – How train change the track?
20 June 2021
Railway Switch and Crossings – How train change the track?
Railroad track Crossing is the most important steering system in the railroad track. It consists of two parallel steel rails set a fixed distance the standard gauge is 4 feet 8.5 inches.
In the track change process, the inner rim of the wheel called a flange is comparatively greater in diameter than the outer part which prevents the wheel from sliding off the track.
Switchs:
Switch rails or point blades are the movable rails that guide the wheels towards either the straight or the diverging. Track stock rails are the running rails immediately alongside the switch rails against which the switch rails lay when in the closed position points operating rods.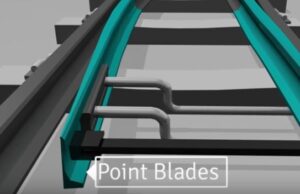 Point blades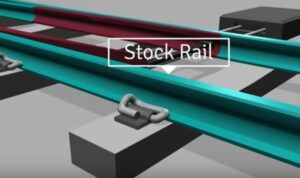 Stock Rail
Points operating machine also known as a point switch machine or switch motor is a device for operating railway turnouts especially at a distance.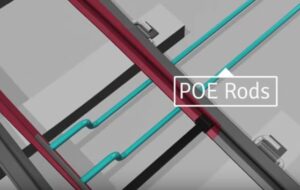 POE Rods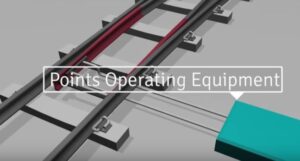 Points Operating Equipment
Crossing:
Crossing is a pair of switches that connect two parallel rail tracks allowing a train on one track to cross over to the other check rails also known as guard rail laid parallel to a running track to guide the wheels. All these rails are non-movable.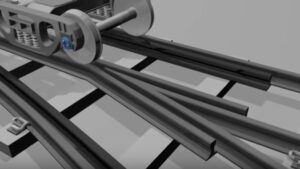 Rail track Crossing
Crossing nose as a device on introduced at the point where gauge faces cross each other to permit the flanges of the railway vehicle to pass from one track to another.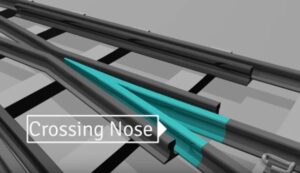 Crossing Nose