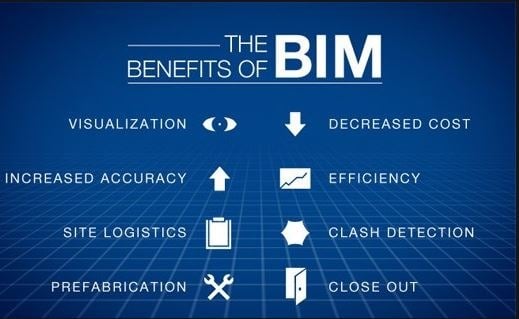 The Most Significant Benefits of Using BIM
14 February 2020
The Most Significant Benefits of Using BIM
Effective use of BIM can have a dramatic impact on a project through improved design, enhanced constructability, and quicker project completion, saving timeand money both for the owner and for the project team.
BIM is also emerging as the solution to reduce waste and inefficiency in building design and construction, although some organizations are taking a wait-and-see approach, seeking clear evidence for a return on the investment BIM would entail.
The most significant benefits of BIM are these:
Lower net costs and risks for owners, designers, and engineers.
Development of a schematic model prior to the generation of a detailed building model, allowing the designer to make a more accurate assessment of the proposed scheme and evaluate whether it meets the functional and sustainable requirements set out by the owner; this helps increase project performance and overall quality.
Improved productivity due to easy retrieval of information.
Improved coordination of construction documents.
Coordination of construction, which reduces construction time and eliminates Change Orders.
Reduced contractor and subcontractors' costs and risks.
Accurate and consistent 2D drawings generated at any stage of the design, which reduces the amount of time needed to produce construction drawings for the different design disciplines while minimizing the number of potential errors in the construction drawings process.
Increased speed of project delivery.
Embedding and linking of vital information such as vendors for specific materials, location of details, and quantities required for estimation and tendering.
Visualization by the project team and owner of the design at any stage of the process with the understanding that it will be dimensionally consistent inevery view, thereby improving monitoring efficiency and reducing operating costs.
Savings for realtors, appraisers, and bankers.
Coordination and collaboration by multiple design disciplines, shortening the design period while helping to reduce potential design errors and omissions; also greater insight and early detection of possible design problems, allowing for better performance prediction.
Safer buildings for first responders.