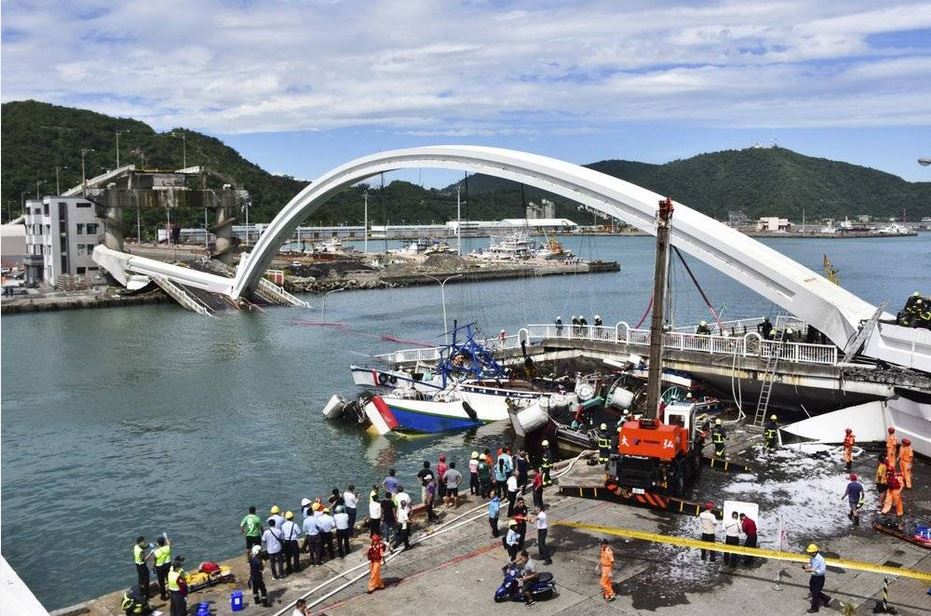 What caused the Taiwan bridge collapse?
6 November 2019
What caused the Taiwan bridge collapse?
Bridge Collapses in Taiwan; Oil Truck Plunges Moments Away From Crossing
Several fishing boat workers were among at least a dozen people injured when the bridge,  fell into a waterway in a fishing village.
A 2016 report on bridges in Yilan county had found problems with the expansion joints on the Nanfang'ao bridge, which was completed in 1998 and collapsed Tuesday morning, the official Central News Agency reported. The joints are designed to absorb changes in temperature.
The bridge – although only 20 years old – had previously undergone remediation work after a 2016 report found that the expansion joints were "obviously warped, damaged and sagging".
CNA cited the report as saying that motorists could sense a difference of levels on either side of the joints, possibly as a result of warping or other problems.
Independent bridge consultant Simon Bourne said that the Nanfang'ao bridge collapse raises questions around the robustness of maintenance regimes in the aftermath of problems that triggered the recent closure of Hammersmith Bridge in London and the fatal collapse of the Polcevera viaduct in Genoa, Italy which claimed the lives of 43 in August 2018.
The company responsible for managing the bridge, Taiwan International Ports Corporation Ltd., earlier said it cleaned the joints and fixed other problems such as rusted steel reinforcements and guardrails in 2017 and 2018.
Experts are also looking into the condition of the bridge's steel cables, including the possibility of dangerous levels of corrosion.
The 140-meter (460-foot) -long, 18-meter (nearly 60 feet) -high bridge collapsed into a bay on Taiwan's lightly populated east coast, about 60 kilometers (40 miles) southeast of Taipei. A typhoon swept by the island earlier, but the weather was sunny when the bridge collapsed, and it wasn't clear if the storm was a factor.