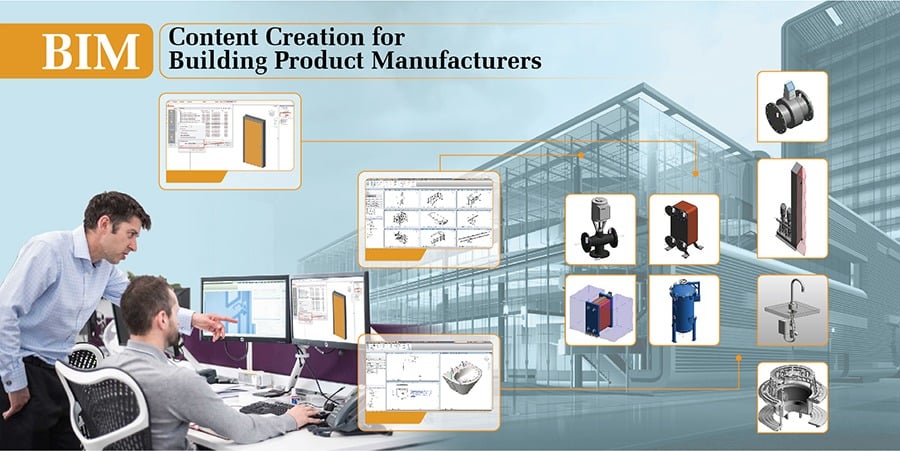 Why Should Building Products Manufacturer Create BIM Content?
15 February 2019
As the construction industry continues to evolve with the constantly growing technology, there are areas within the industry that needs to upgrade them. With that being said, it is building product manufacturers that particularly need to explore the potential of BIM for the growth of their business and gain that competitive edge.
BIM as grown significantly over the past half a decade and is still developing. It entered the industry with design tool for architects and today supports everyone involved in the construction project. Amongst all this changes, building product manufacturers need to reassess their usage of Revit Product data for Revit family creation and make the most of it. Incorporating BIM in the construction supply chain necessarily means every professional on a particular construction project should align themselves.
Why is BIM content creation is more than important for building product manufacturers?
Recently governments of several nations like UK and Singapore have mandated BIM Level 2 for every public construction project. This means that manufacturers of products such as steel stairs, MEP components, facades, furniture, shopfitting, sheet metal enclosures, ducts etc. need to align with the needs of sheet metal contractors. And these sheet metal contractors need to facilitate the general contractors and sub-contractors with the BIM content of the products that they supply for projects.
Thus, an ideal way to get the original and as-is BIM content of any product is from the original manufacturer of the product. BIM Content or Revit Families serve as an excellent project deliverables when supplied to the respective contractor along with the physical predicts. BIM-ready product data templates will ensure a seamless communication channel across the disciplines, cross-teams and during the development of LOD 500, 3D BIM models in Autodesk Revit.
Some of the apparent reasons to use BIM content for building product manufactures and product design engineers are as enlisted:
Lack of association of building designs with the manufactured products
Lacking control over design data ownership and out of date design data availability
Configured and customized products having higher design complexity
High monetary investments for to acquire skills for BIM content development
Well-structured digital information
To overcome these roadblocks, the recent focus of manufacturers has been shifted to BIM objects and data templates. These digitized models of frequently used standard components like MEP fixtures, cables, trays, switches, heaters, pumps, valves etc. helps in quick model development and coherent communication between designer, manufacturer, and the installation foremen.
Another advantage of BIM objects is that the manufactures and design engineers say that with the existing standard data, they can now quickly generate other similar objects with little customization. It has happened because of the standard data collected from manufacturers and the ones available online to establish a standardized approach.
Amongst the monetary benefits, it has been surveyed that of the total construction costs of UK about, 40% share is by the building products. This developed a natural attraction to BIM objects for building product design engineers, manufacturers as well as the project managers.
Opportunities to create Revit families/BIM objects
Creating Revit models from scratch for every object is possible but it needs rigorous training with Revit and AutoCAD both. One may have to pre-build each geometry configuration and export it for the manufacturing decisions making and finally maintain it.
Another option is getting BIM data directly from the manufacturer's website with specifications, pictures, geometrical dimensions etc. By adding an update to native BIM models as product line evolves, helps the BIM expert to gain more specific insights about spatial occupation.
Such an approach aids the contractors to plan and schedule the site activities as per the PERT methods and lean construction techniques to achieve the ultimate aim of efficiency and economy.
Source: www.hitechbimservices.com