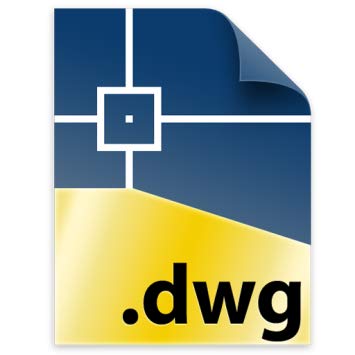 History and Future of DWG
15 February 2019
Created in the 1970s and launched by Autodesk in 1982, DWG has established itself as one of the most ubiquitous file format for CAD software on the planet. Everyone who uses CAD will be familiar with it – but how much do you really know about it? Here, we're diving into the history of the DWG file format, from its origins to its current position as the world-leading CAD file format. We'll also be taking a look into our crystal ball, to see what's in store for the future of DWG…
---
What is DWG?
Before we dive into the story, let's take a look at exactly what a DWG file is and does. The DWG file format allows users to store two and three-dimensional design data for use in CAD software. DWGs allow you to store vector entities, maps, geographic information, and even photos. Essentially, any information that you can enter into a CAD program can be stored in a DWG file.
The DWG file format is perhaps best known as the native format for AutoCAD, and is a proprietary file format owned by Autodesk, the creators of AutoCAD. As a proprietary format, it has been specifically designed to work with AutoCAD, rather than to function as an open standard across CAD software. Despite this, the format is supported across a range of CAD programs and DWGs can be viewed even without an AutoCAD licence. DWG also has applications across a range of industries, from architecture and engineering to virtual reality and game design – for a full rundown, visit our article exploring how different industries use DWG files.
The fast-growing game design sector uses DWG files day in, day out – this car is just one example
---
The Beginnings
The history of the DWG file format begins in the late 1970s. Programmer Mike Riddle found himself unsatisfied with the CAD programs available to him on the market – so instead of waiting around for someone to build something better, he built it himself. Starting in 1977, Riddle began work on a new CAD program, Interact CAD – and its native file format was to be (you guessed it) DWG, which stands for drawing. Initially released in 1979, Interact CAD was far from a runaway success: Riddle only managed to sell around 30 copies of the software.
Despite the rocky start, it was clear that the new software had potential, and in the early 1980s, Interact CAD was acquired by the newly-formed company Autodesk. Interact CAD was to form the architectural basis for a new CAD program, AutoCAD, which was launched in 1982 by Autodesk – at that time, a small company formed by John Walker and a handful of programmer friends, including Riddle. The DWG format was finally about to be introduced to the public on a much larger scale. While Interact CAD had reached only a handful of customers in its first few years of release, AutoCAD rose to become the most widely-used CAD program in the world just four years after its initial release.
One of the earliest forms of the DWG format shown in a 1982 edition of AutoCAD
---
DWG Dominance
Thanks to the global reach achieved by AutoCAD, the DWG file format quickly became the go-to standard for CAD designers. In fact, it was estimated that by 1998, there were more than two billion DWG files in existence – and considering that another 18 years have passed, the number has surely ballooned even further since.
Of course, DWG didn't achieve its dominant position in the CAD world by standing still. Whilst the format exists to fulfil the same function as in 1982, it's gone through a huge number of changes since then. The DWG format is subject to versioning. This means that every few years, major adjustments are made to the file format, as it adapts to technical advances and changes in software. New versions of AutoCAD will be able to support any DWG file, even those created for the first version of AutoCAD in 1982. Old versions of AutoCAD, however, won't be able to open files saved to the newer versions of DWG.
All in all, there have been nineteen different versions of the DWG file format. Autodesk typically releases a new version of DWG every three years; the most recent version of the format, however, was released in 2013, and has been the native format for five consecutive editions of AutoCAD.
A DWG 2013 file open in the most recent version of AutoCAD – AutoCAD 2017
---
Legal Battles
Not everyone is happy with DWG's status as a proprietary file format. In 1998, the OpenDWG Alliance was founded with the aim of making DWG an open standard for CAD software, much as the DXF format is. The organization was renamed as the Open Design Alliance in 2002. The group includes a number of competitors to Autodesk, and has aimed to reverse-engineer the DWG format, so that a method of reading and writing DWG files can be incorporated into other, non-licensed CAD programs.
Autodesk retaliated against this by introducing TrustedDWG technology, which verifies if a file was created and saved in Autodesk-licensed software. Autodesk made further efforts to defend their format by attempting to register "DWG" as a trademark with the U.S. Patent Office; this would have prevented other organizations from using the term. In support of their claim, they stated that "DWG" no longer referred solely to the file format, but also to a specific technology environment present within Autodesk software. However, the Patent Office issued a final refusal to register the trademark in 2011, with the refusal being affirmed once again in 2013.
---
Future of DWG
As previously mentioned, Autodesk failed to release a new version of DWG for the 2016 and 2017 versions of AutoCAD, as would normally be expected. The head of the Open Design Alliance, Neil Peterson, speculated this could be due to a lack of new features. A former head of the ODA, Arnold van der Weide, even suggested that Autodesk could be planning to do away with the DWG format altogether. Could Autodesk's move towards cloud-based software kill DWG entirely?
Probably not. With DWG maintaining its status as the dominant CAD format, it's unlikely to be going away any time soon. Whilst there may have been few recent developments in the desktop version of AutoCAD, DWG is still the native format for Autodesk's new cloud-based software AutoCAD 360. Not only that, but the ubiquity of DWG means many would still use the format regardless of any abandonment by Autodesk. ODA head Neil Peterson suggests that DWG would still be safe even if it were scrapped:Even if Autodesk did away with it, our 1,250 members and millions of their customers would keep right on using DWG.Neil Peterson, President of the Open Design Alliance
---
Conclusion
So, DWG is not dead, but it's definitely evolving. DWG is no longer a desktop-bound format, and while mobile apps are still currently seen as complementary to the 'main', desktop editions of software, all that is set to change. Smartphones and tablets are likely to be key platforms for tomorrow's CAD designers. Far from becoming irrelevant, DWG is set to be a feature on more screens than ever before.