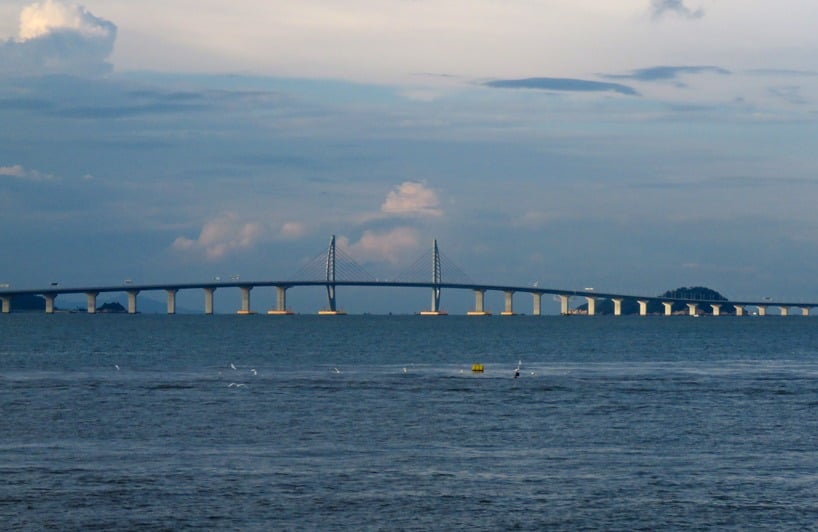 World's longest sea bridge opens between hong kong and china
20 January 2019
World's longest sea bridge opens between hong kong and china
The world's longest sea-crossing bridge has been officially opened, connecting hong kong, macau and zhuhai. measuring 55-kilometer (34.2 mile) in length, the dual three-lane link, hong kong-zhuhai-macau bridge, is part of beijing's plan for a greater bay area covering 56,500 square kilometers (21,800 square miles) across southern china, encompassing 11 cities in total. the city hopes to form a rival tech hub to san francisco bay out of the three coastal areas the structure directly connects.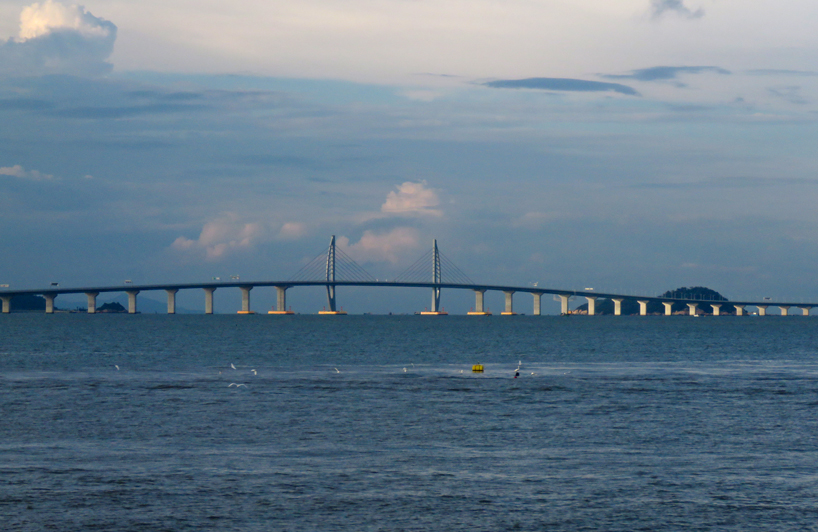 The hong kong-zhuhai-macau bridge image © jīng jú jīng duàn
The bridge, which is made up of a 9.4km viaduct and 1km tunnel, posed a number of challenges to the project team. a 41m vertical clearance above sea level was required for the viaduct section in order to not obstruct marine traffic, a consideration that also influenced the construction process itself. the bridge is comprised of over 5,700 precast pile caps weighing between 75 and 225 tonnes that were used to minimize the amount of building works on sea.
the bridge structure includes two artificial islands that serve as entry and exit points for a 4-mile underwater sea tunnel west of the hong kong section of the bridge on lantau island. it is designed to last 120 years, withstand typhoons, and resist the impact of a magnitude-8 earthquake and a 300,000 metric ton vessel, according to the official in charge of the project's construction.originally due to open in 2016, repeated delays pushed forward its completion and nine years after construction first began, it was declared open in a ceremony in zhuhai on tuesday, attended by chinese president xi jinping and hong kong's chief executive, carrie lam.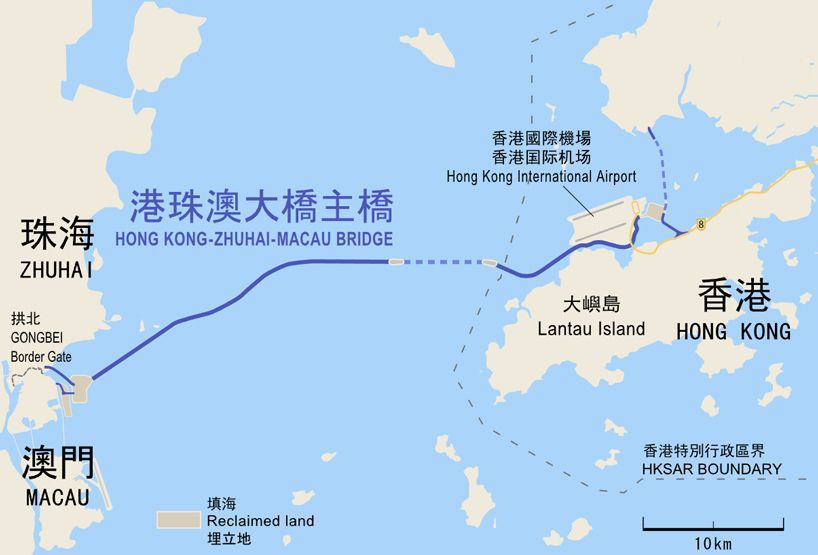 The highway and undersea tunnel routes of the hong kong-zhuhai-macau bridge image © kellykaneshiro
The $20billion bridge will be open to public traffic on wednesday cutting journey times between the cities from four hours to 45 minutes, which officials say will enable commuters and tourists to easily move around the region. although it aims to bring the autonomous regions closer to mainland china, the bridge will only be accessible to a few. people from hong kong will need special permits and there have been reports that long-term permits to cross from hong kong to zhuhai will be granted to people who meet strict criteria, such as paying significant taxes in china, those who make large donations to charities in the southern chinese province of guangdong, or those who are members of one of several political organisations. a private shuttle bus can be used by other people however there is no actual public transport on the bridge.