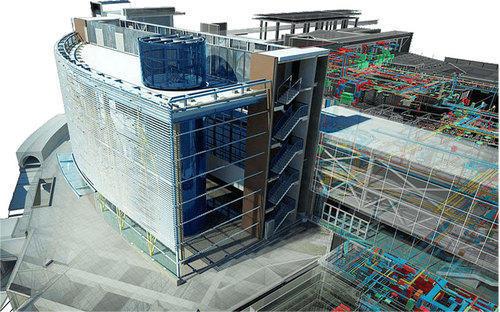 Benefits of using BIM Modeling from a contractor stand point
4 November 2018
Benefits of using BIM Modeling from a contractor stand point
BIM stands for Building Information Modeling, a virtual design process that delivers a complete 3D geometry loaded with building data like quantities, material information, Revit families etc. for further construction processes. These details can be utilized to present the aesthetics, functionality and building efficiency overall much before they are constructed.  Contractors can take advantage of BIM owing to plenty of other advantages it has to offer. Construction technologies are reinventing themselves year on year with several cloud based software like BIM 360 gaining prominence. These services are providing great opportunity to the contractors to use BIM for the overall construction process. Let us see how virtual construction technology works with the contractors. Adoption of this process is enabling contractors to follow a structured project execution method and project delivery accurate and quicker.
BIM in pre-construction Phase
BIM Modelling is carried out by Architects, Engineers and Contractors to virtually construct the building to understand the overall building functionalities. By working with the Virtual Construction Modeling or "Virtual Design Construction", contractors can ease their design process and detect design flaws prior to the beginning of the construction process. As we all understand Building Information Modelling works with a collaborative approach and enables every party involved in the design and development process to be in sync with each other. We can achieve
Reduced cost and quick delivery
Accurate results
Design changes
Single Model utilization for all phases
 Architects and Contractors are adopting virtual construction modeling for the designing and construction process. This BIM Modelling process nowadays is widely used by contractors to handle complex infrastructure projects too. As we all know Virtual Construction Modelling is much more than just 3D Models and drawings. It gives a great value addition to the entire construction process and brings a simple 2D CAD drawing by adding visual 3d features, building data etc. Information found in the 3D Model generally comes in light only during actual construction. But with the help of BIM Coordination Modelling, lot of critical clashes or interferences that are usually detected during construction is identified during the clash detection process.
Building information modeling facilitates the Contractor by providing a single model with building data that brings all the parties together and reaches an amicable conclusion regarding any design change.
Any construction project is dependent on the ability to work seamlessly within each department. The ability to share, verify and process building data plays a very important role. This is where BIM Modelling comes into play. This process helps in creating a common data sharing tool that helps in the construction process and also after post-construction process. Contractors require complete building data that is usually provided for construction on site. Hence, the contractors would like to receive a 3d model which has got the flexibility to modify and add details as on site. Contractors are also concerned with the after construction stage too. The contractors can also provide any feedback arising during construction, raise change orders and contact the Architects, Engineers and BIM team to directly incorporate changes. Having a smart model helps a contractor in a lot of ways. The contractor can provide As-built modeling services, facility management etc. after the construction is over. The collaborative approach helps all the parties involved in the process with complete building data and project information for all stages.
Once the 3D Model is built with all data and all the processes, this model is handed over to the owner of the building which he can use for the operational management of the building. Any requirement in terms of replacement of components, renovation or retrofit, new design requirements etc. can be easily dealt with in case of an in place BIM Model.
The 3D geometry within the BIM Model, building data and the Revit families depict detailed information such as manufacturer detail, asset tags, locations etc. It gets easier to order the equipment's in case of any repairs or issues within the building. Since it is a 3d virtual model depicting the building as it would be constructed, it becomes easier to understand the wall penetrations too or interior elements within the wall, ceiling etc.
Apart from contractors, even sub-contractors are an integral part of the entire virtual construction modeling process. Right from BIM Modeling and conducting coordination meetings, they work hand in hand with the contractors. BIM Model is the key information Centre for the entire construction and project team. We can extract Architectural construction drawings, MEP Installation drawings, Revit Families etc. from a single 3d geometrical model and perform constructability reviews, construction scheduling etc. With the help of BIM 360 tool, we can work with real-time changes and updates. Models will be all time updated with all the project progresses and finished items. All the parties are aware of what is going on with the project. Any design changes are communicated uniformly within all parties through BIM 360 tool.
Utilization of Building Information Modeling helps contractors maximize their profitability by working on a turnkey project such as complete installation and facility management services. Building Information Modeling is extremely beneficial to the contractors working turnkey.  These services can be more productive with virtual construction modeling. Most of the issues can be resolved by referring to the completed 3D Model. Intricate information of types of equipment can be found within the Revit families. Owners can get a very fair idea of the maintenance cost during the construction and post-construction phase.
One of the key benefits that contractors avail by opting to work with BIM is the integration of the cost and timeline with the building data. Overall results have achieved great boost and results for all the parties involved in the project.
More and more contractors are now getting into turnkey projects and offering BIM Model as a part of their integrated service delivery model. Builders and stakeholders initially did not find it lucrative, however looking at the amount of assistance this provides post construction they have also begun to use this process.
Source: https://www.kiwibox.com